Accreditations and Competency
We hold ourselves to a high standard and have achieved all the necessary accreditations to be able to carry out training. Essential Site Skills holds the following awarding body accreditation's, including IOSH, NEBOSH, CITB Site Safety Plus, UKATA, CPCS, NPORS and many more, so you can be confident that we are Quality Assured by leading UK Awarding Bodies, and global accreditations such as BAF (British Abrasives Federation).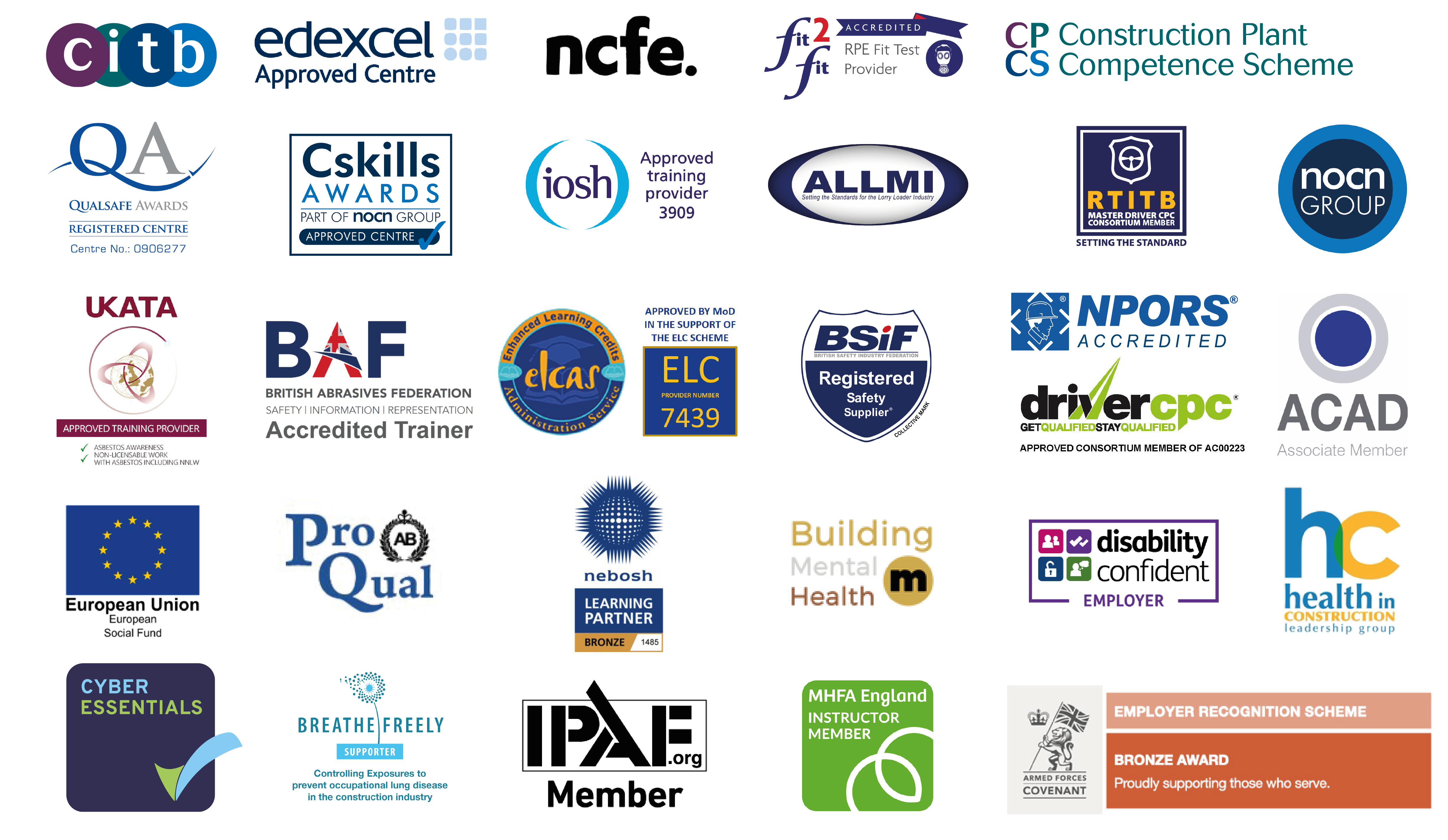 Awards
IOD Director of the Year 2019 - Highly Commended
A huge congratulations to Gareth Davies, one of our founding directors, who has been Highly Commended for 'Director of the Year' at the IOD Awards 2019. Gareth was honoured to be highly commended for his category amongst a high number of esteemed competition.

The IoD East Midlands Awards took place on Thursday, June 20 2019. They celebrated the best of the best across the region's businesses and directors at the forefront of leadership excellence. They aimed to raise awareness among IoD members, the wider business community and the public of the significant contribution business leaders can make to society and to economic prosperity in our region.
https://www.iod.com/events-community/regions/east-midlands/news/details/Director-of-the-Year-Awards-2019-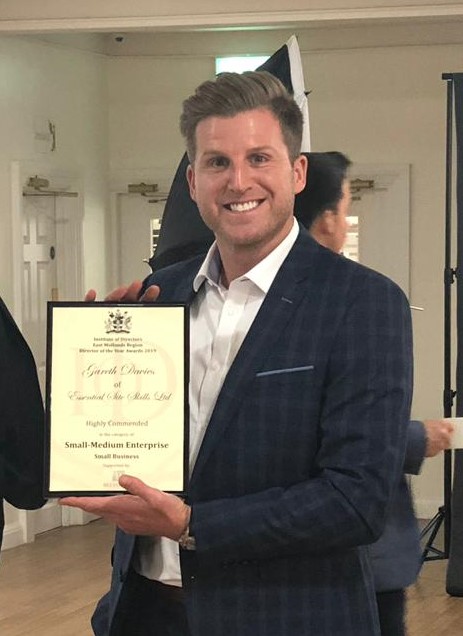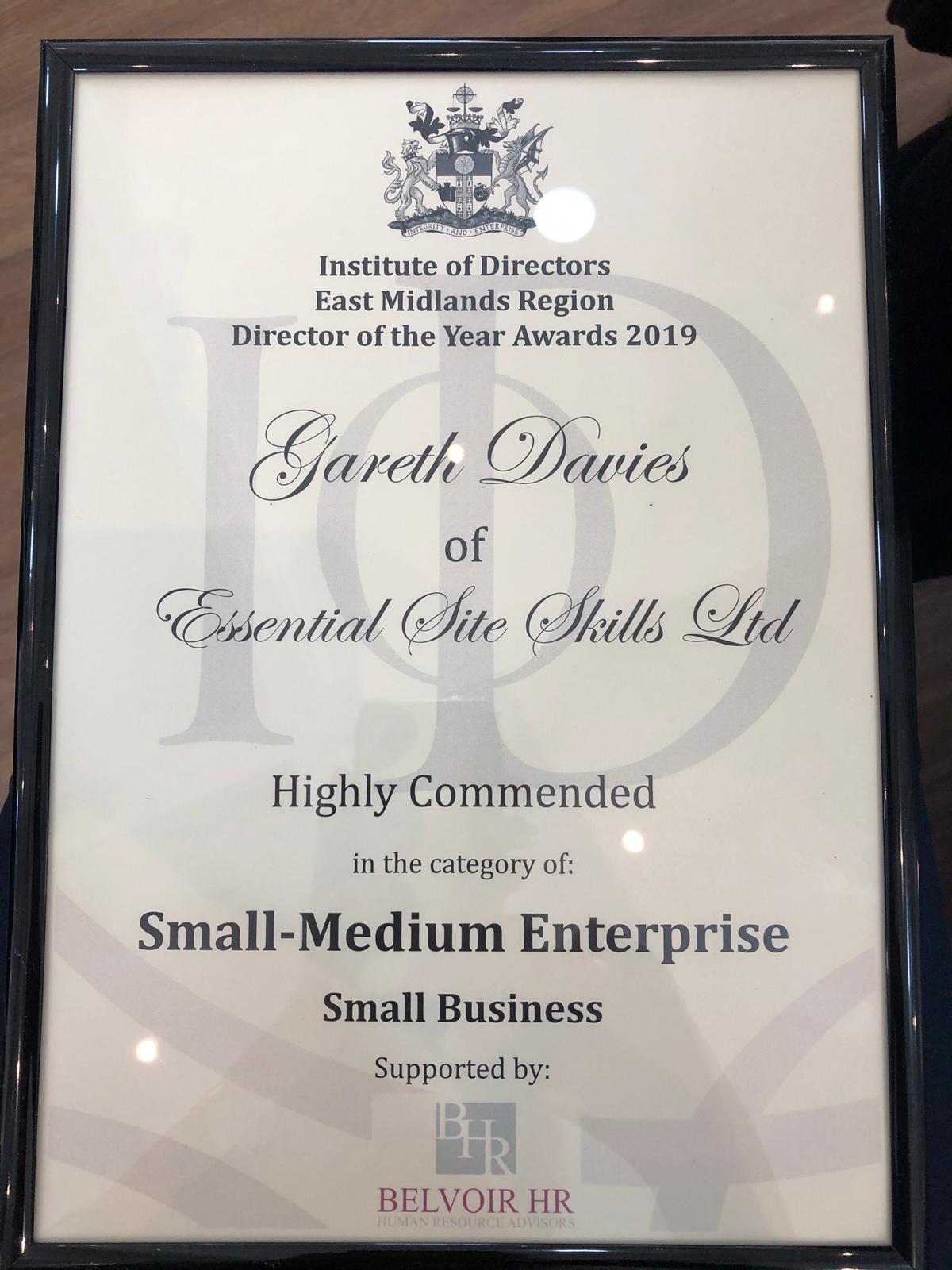 Business Leader of the Year 2019 - Finalist
A huge congratulations to Stuart Goodman, one of our founding directors, who has been announced as a finalist for 'Business Leader of the Year' at the British Ex-Forces in Business Awards 2019.
The annual event uncovers and promotes the achievements of ex-military who are now excelling in the business world, presenting them as important role models for current and future service leavers. The awards highlight the military-gained skills and values that have helped enable their business achievements and recognise the organisations that have supported them.
https://exforcesinbusiness.co.uk/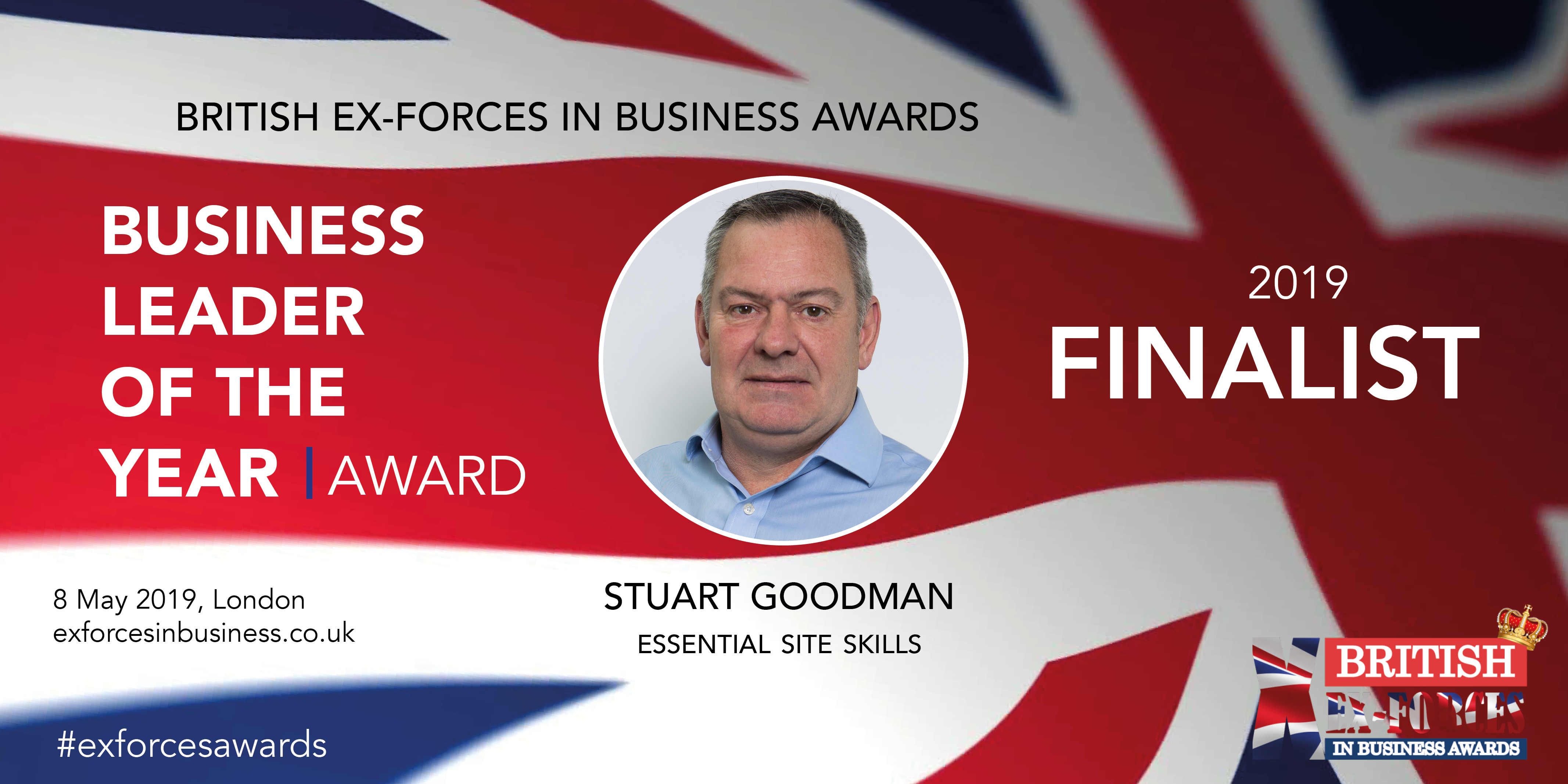 Rising Star Award 2019 - Silver Winner
A huge congratulations to Michael Harcourt, our Training & Consultancy Manager at ESS, who has received the 'Rising Star Silver Award' at the Learning Awards 2019!
Michael has risen from a qualified teacher with potential, to a skilled multi-disciplinary trainer who is, and has, contributed to saving lives and changing safety cultures up and down the country. Michael thrives on watching learners surpass and exceed their desired goals. His attention to detail and meticulous preparation and desire to teach is testament to his professionalism and conduct, and one of the many reasons why his training skill is requested from our clients across the breadth of the UK. Michael's potential is boundless, but it's his learners who really benefit from his extraordinary ability to drive learning and H&S in a modern, informative and creative way!
The 2019 Learning Awards represent the highest achieving individuals and organisations in the field of learning and development. The 15 awards categories received hundreds of entries from around the globe, and included submissions from many of the world's leading brands. Every winner and shortlisted finalist has demonstrated exceptional performance and contribution to the learning profession.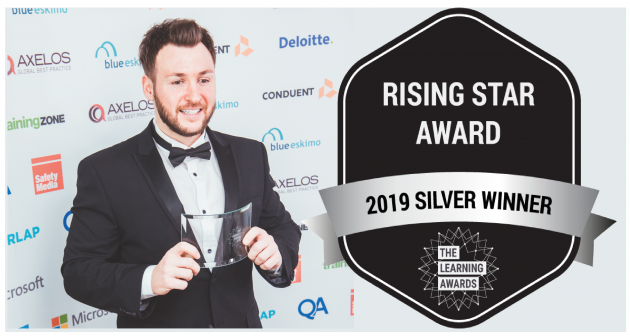 Learning Provider of the Year 2019 - Finalist
Essential Site Skills are extremely proud to announce we are Finalists for the highly coveted and prestigious 'Learning Provider of the Year' at the 2019 Annual Learning Awards! ....
"On February 7th 2019 the Learning and Performance Institute will host its annual Learning Awards to recognise outstanding examples of high standards, best practice, innovation and excellence in Learning and Development. Hosted by TV star, Tess Daly, the 2018 Awards was live-streamed around the world and attended by 400 industry guests and finalists at the prestigious Dorchester Hotel, Park Lane, London, cementing its reputation as the premiere awards event in the learning industry."
We are so proud of our team at ESS. They all take such pride in what they do each and every day, and they wholly deserve this recognition for it, so a massive well done to everyone at ESS!
https://www.thelpi.org/events-2/learning-awards/

UKATA Excellence Awards 2018
Essential Site Skills Ltd were pleased to win the Advertising Campaign Award, which recognises outstanding results through marketing and advertising to promote and campaign our services, and how this has made a positive impact on the asbestos industry.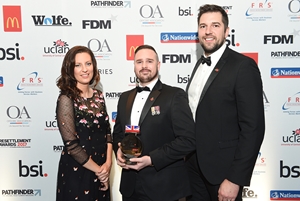 The BSI Service Leaver of the Year Award 2017
This award was presented to our Training and Consultancy Director Darren O'Neill, who excelled throughout his resettlement process with ESS achieving huge success in his new career within in a short space of time. Within 16 months of leaving the forces, Darren progressed from his initial role as Business Development Manager to a company Director, developing the Training & Consultancy side of the business with the highest of standards.
Our Trainers
All of our training staff have achieved a minimum L3 Award in Education (AET) teaching qualification, aiming towards L4 Certificate in Education and Training (CET). They also carry out a minimum of 50 hours recorded CPD per year, in addition to their specialist area of training qualifications. They possess additional qualifications which support their overall health and safety knowledge such as NEBOSH or IOSH as a minimum.
Our trainers are actively involved in supporting safety organisations and campaigns such as the HSE, Breathe Freely and most recently delivering a UKATA Awareness Course in partnership with the local Working Well Together Group to upskill the knowledge of the SMEs and HSE representatives attending this important topic. They also recently provided a Respiratory Protection and Management Seminar to the construction industry, sharing our knowledge to protect the health of construction workers.
Our Training Centres
We host public courses at locations nationwide in addition to our own two training facilities. Our course quality is supported by our centre accreditations, which include UK Awarding Bodies such as Qualsafe Awards, BOHS, CITB Site Safety Plus, Fit2Fit, IOSH and UKATA.
CITB Site Safety Plus Centre and CITB ATO Status
We are proud to confirm that we are a CITB Approved Training Organisation (CITB ATO).
The Construction Industry Training Board (CITB) are the Industry Training Board and a partner in the Sector Skills Council for the UK construction industry. Our values align closely with theirs as we both aim to encourage industry training and promote employers who work to build a safe, fully qualified workforce. Holding this award means that CITB recognises us as an approved training partner to the construction industry.
We're also a CITB Site Safety Plus centre. Site Safety Plus (SSP) courses are a suite of courses for the construction industry, which focuses on health and safety awareness, as well as career development.
Armed Forces Covenant
Essential Site Skills are proud supporters of the Armed Forces who serve our nation. Not only is a significant portion of our managerial team made up of ex forces people, but we also employ plenty of trainers and assessors who have served, too. In fact, our Training and Consultancy Director, Darren, once won Service Leaver of The Year!
We are so committed to supporting the forces that we have even signed up to the Armed Forces Covenant. This is a register of all the UK based companies who pledge to support and further the interests of service men and women.
Our pledge is to support all ex forces by promoting Armed Forces Day, whilst working to bridge the gap between the Construction Industry and the Forces community, either by providing training opportunities, NVQs, or signposting.
Proud To Be Associated With
Here are some of the many organisations, societies and groups we work with or have been recognised by:
ACAD (Asbestos Control and Abatement Division) | Armed Forces Covenant | Association of Lorry Loader Manufacturers and Importers (ALLMI) | BSiF Registered Safety Supplier | British Abrasives Federation (BAF) | British Red Cross | British Occupational Hygiene Society (BOHS) | Breathe Freely | CSkills Awards | CITB Site Safety Plus | Construction Plant Competence Scheme (CPCS) | Disability Confident Employer Scheme | Edexcel | Enhanced Learning Credits Administration Service (ELCAS) | European Social Fund (ESF) | Fit2Fit | Health in Construction Leadership Group | Institution of Occupational Health & Safety (IOSH) | National Examination Board in Occupational safety and health (NEBOSH) | NOCN Group | National Plant Operators Registration Scheme (NPORS) | ProQual | Qualsafe Awards | UK Asbestos Training Association (UKATA)
Get in Touch
If you have any questions about awarding bodies or our accreditations, please contact us and we will be happy to answer any questions.
Looking For Health and Safety or Construction Industry Training Courses?