The ESS Guide to Face Fit Testing for Covid-19
Posted on Friday, 19th June 2020 by Tim

After months of disruption, we are starting to see the country get back up and running following the Coronavirus lockdown. But until a vaccine is found, workplaces will have to adjust to a 'new normal' to reduce the risk of new waves of the virus.
One of the main methods of preventing the spread for many workplaces, especially customer-facing roles, will be the use of Respiratory Protective Equipment (RPE). But in order to use this equipment effectively, it is essential for it to be worn correctly.
At Essential Site Skills, we have been providing expert training in RPE for years, and our trainers work has never been more needed than now. Today, we take a look at our Face Fit Train the Tester course, what it involves and how integral it is to protect your staff, clients and customers. We will also give you some handy tips for finding the right RPE and using them correctly.
What does a Face Fit Train the Tester course involve?
Through hands-on, practical training, this course will give learners the necessary knowledge to conduct tests on RPE equipment to check they are fitted correctly. This will provide businesses with the peace of mind that their RPE is working correctly and protecting their staff.
This course will provide the basics of understanding the different types of RPE and how they need to be used to offer users full protection. The course goes through the process of performing a mask test step-by-step, culminating with learners being asked to complete a full test themselves. The trainer will observe learners completing a successful test from start to finish before they can be awarded their certificate.
These tests are conducted through what is known as the 'qualitative' method of training. Qualitative tests use a taste sensitivity test to judge whether the RPE is effective at protecting users from potential harmful particles, such as those linked to Covid-19.
If possible, we recommend that participants bring their own RPE with them in order to ensure they know the ins-and-outs of the particular type of equipment they will be using. However, face fit masks will be provided for learners during training if necessary.
What does the Train the Tester qualification allow me to do?
As part of Section 2 of the Health and Safety at Work Act, employers need to provide staff training to protect their heath. In terms of using RPE to protect from the Coronavirus, this qualification will meet that criteria for your company.
Upon completion of the course, successful learners will be issued with an ESS Face Fit certificate which proves their competency to test their staff's RPE equipment in-house. This is a much more efficient way of conducting in-house testing than bringing in external trainers to conduct tests.
Once completed, the learner will have certification valid for three years, at which point the Coronavirus will hopefully be a thing of the past. This training will allow the learner to test people on their current worksite, though it will not allow them to conduct testing at any other workplace. To train staff on other sites or in different workplaces, you need to be a fully qualified trainer.
Why choose Essential Site Skills for training?
During this pandemic, it has never been more integral for our trainers to be able deliver our high-quality Face Fit Train the Tester course. Completing this course provides staff members with the necessary skills and knowledge to be able to perform on-site fit tests at their workplace, protecting the safety of staff, clients and customers.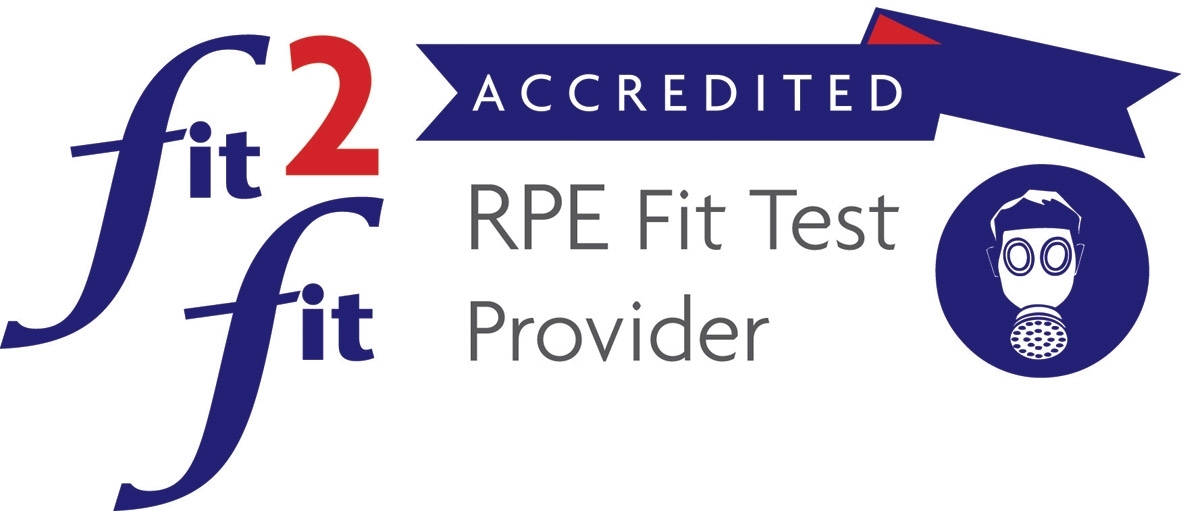 At ESS, all of our trainers are Fit2Fit accredited. This accreditation means they are endorsed by the BSIF and HSE to provide the highest standard of testing. Having this high-level of training is integral not only in establishing safe workplaces and minimising the risk of spreading Covid-19, but will provide peace of mind and confidence to clients and staff.
Due to the practical nature of using this equipment, these training sessions have to be delivered face-to-face. However, we are doing everything we can to keep these sessions as safe as possible. This includes limiting the number of participants to ensure a two metre distance can be kept as much as possible, sanitising all work surfaces and equipment before and after use, and working within the latest government guidelines. You can find out more about our Coronavirus policies here.


What masks do I need to protect me from Covid-19?
All tight-fit face masks come with filters of either P1, P2 or P3, with the higher numbers being more effective at filtering out potential harmful particles. The more effective filters have a higher Assign Protection Factor (APF). P1 filters have around an 80% APF, P2 have 95% and P3 have 99%. This makes P3 filters the most effective as they filter out almost all harmful particles.
The guidelines issued by the Health and Safety Executive state that frontline workers need to have masks which are at least P2. Any masks which have P1 filters are not fit for frontline purposes, and so should not be worn by anybody working in industries like the dental service. P1 filters should only be used for personal use such as travelling on public transport or shopping.
Ideally, we would recommend everybody wear P3 filters, but due limitations in stock this may not be possible, in which case P2 filters are perfectly fine to use.
How do I know if a face mask is fake?
In the current climate it is incredibly important to check the validity of the equipment you are buying. With the dramatic increase in demand for RPE across the globe, there are a number of outlets selling equipment which does not conform to the necessary regulations and standards.
For example, the HSE have recently issued a statement on the use of KN95 masks, which they have stated must not be used at work. This is because these masks have only been certified under Chinese standards rather than European, meaning their effectiveness cannot be assured. Please avoid purchasing these masks regardless of any claims the seller may be making.
A good way to spot whether masks are legitimate is to check their CE number. If the RPE is certified for use in Europe, there should be a four-digit code next to the CE mark on each individual mask. If you are in any doubt, you can contact the BSIF or HSE to check with them whether your mask is up to the right standard.
How often do I need my mask testing?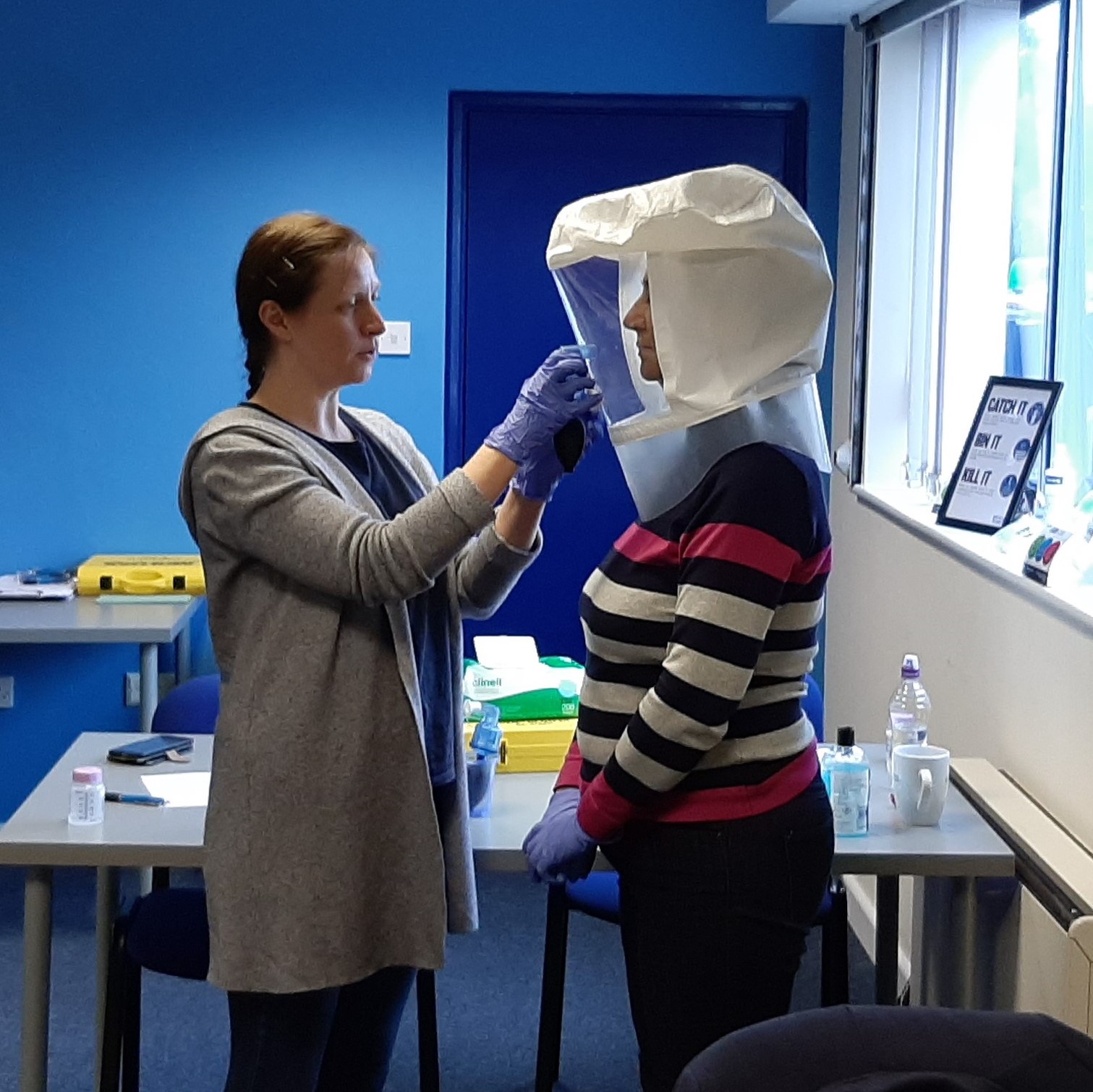 The amount of times you can reuse your mask will depend several factors including the make and model of mask, as well as type of work your conducting whilst wearing it. For example, if you are exposed to a lot of different particles during daily work you will need to replace your equipment more regularly. Follow the guidelines provided with the mask itself and devise internal policies which best suit your working environment. Our advice would be re-test every 1-2 years to ensure the best fit.
You will also need to immediately re-test any users who have gone through substantial changes to their shape or size of their face. This could be through significant weight change, or sustaining facial injuries such as a broken nose.
When you do have to replace your PPE, you don't need re-test your new mask as long as it is the exact same make, model, brand and size as the previous one used. If any of these factors change it is essential your mask is re-tested to ensure it has a tight-fit and is protecting you as designed.
Do I need to shave to wear a mask?
When wearing tight-fit RPE, it is essential that you don't have a full beard. Having any facial hair between the seal of the mask and your face will render wearing the mask pointless. This is because the Coronavirus particles are smaller than human hair, so they get through the gaps in between hairs and into your mask.
You don't have to be completely clean shaven, as long it doesn't interfere with the mask seal. The CDC have issued a handy infographic that shows the different styles which would be allowed when using a face mask.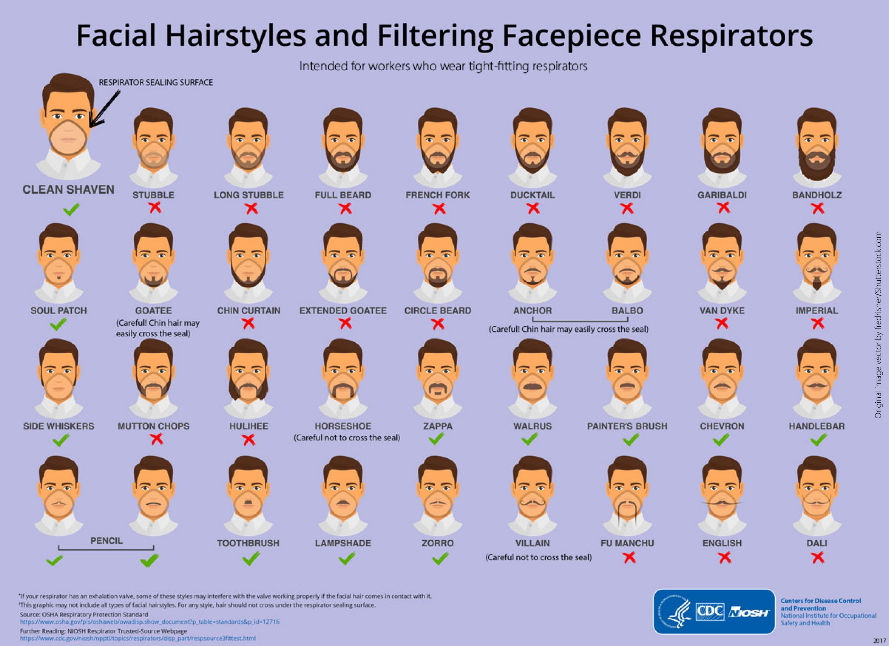 Please also be aware that people with long hair are advisor to tie it up so it doesn't interfere with the mask straps. If you do have longer hair, you need to ensure that it's over the straps rather than under.
If people need to keep facial hair for religious reasons or have certain skin conditions, an alternative face protection will be needed, such as a hood respirator.
Want our trainers to perform your Face Fit Testing?
While it will be more cost-effective in the long-run to have somebody on-site to perform tests on staff, you may want an external trainer to come in and test your staff. For this, we do offer our Face Fit Testing (Qualitative).
If you wish to find out more about services then you can contact our training team by calling 0115 8970 529, or by emailing us at training@essentialsiteskills.com.