Essential Site Skills-Our New Website
Posted on Monday, 25th June 2018 by Admin

Here at Essential Site Skills we have been having a busy few months. Not only have we been bringing high quality health and safety training to companies all over the UK, but we have been working hard on our new website too!
With a little help from our friends at Impelling and GrowTraffic, we have put together a website of which we are really proud.
But its not finished yet! Have a read through this blog to find out what is new, and what is coming soon.
Why Essential Site Skills Has a New Website
We are always seeking ways to bring value to our current and future customers and, whilst our old website was perfectly serviceable, we wanted to make it really easy to book courses.
The team here at Essential Site Skills wanted to create a place where Health and Safety Managers and Learning and Development Managers could come and get everything they need to make sure their staff are safe when out doing their jobs.
We know that busy people in any size of organisation don't have time to waste browsing hundreds of courses to find the one they know they need. In the construction industry especially, people often know exactly what course or refresher course they need and want to go straight to it via a search function.
This was going to be a big job-an Adonis of a website. So, we enlisted the help of some experts and split the website into phases.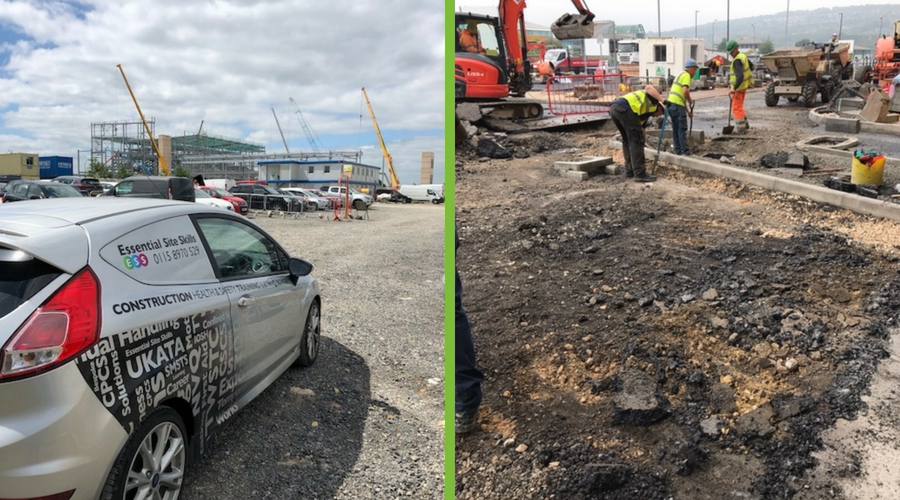 Essential Site Skills' Perfect Website-Phase One
We decided the most important thing we could bring to customers is time. So, we decided to streamline the way courses are found and the information available to save HR people having to trawl through a course index. Of course, we do have a course index, so feel free to browse.
But we also have a nifty search bar that reliably brings you all the courses related to the query you input.
Its simple, easy, and quick.
For example, do you know that some of your team need First Aid at Work courses?
Simply type 'first aid' into the search bar and up pops some options. Click on the course you want to see the full course details.
Its simple!
To save you having to ring us to see what courses there are, or browse through a PDF brochure, we have put all our courses on the website with all the information you could need and links to the accrediting bodies.
Not only that, but for the first time, you can book any of our public courses online through the website.
This means you don't have to call or email and you can get you staff booked onto those essential courses in a matter of minutes. That's another job off your list!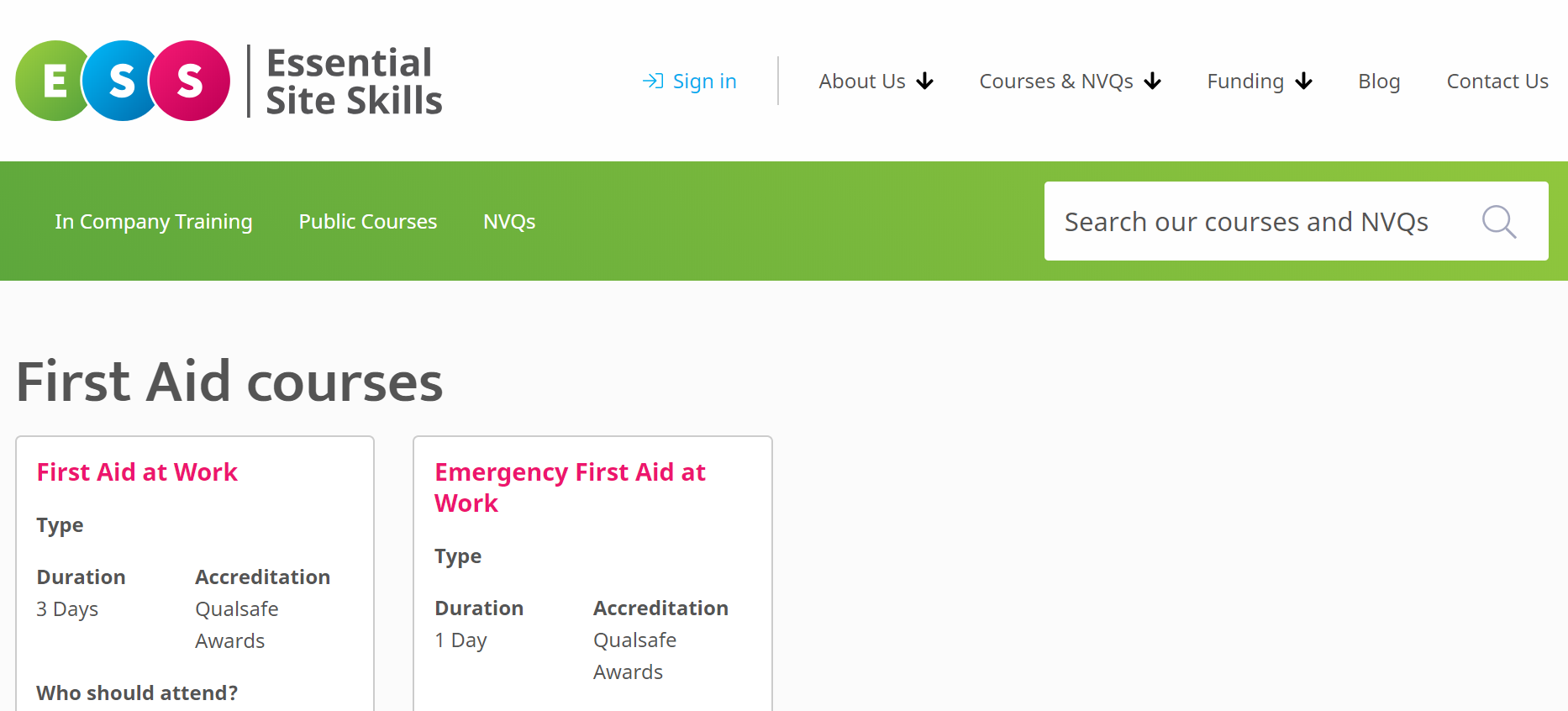 Essential Site Skills' Perfect Website Phase Two
Phase two is going to be so exciting!
We already have a reputation as one of the UK's leading provider of high quality health and safety courses, we thought why not sell high quality PPE/RPE through our site too?
Phase two will see us introducing an online shop where you can buy all sorts of PPE/RPE equipment quickly and easily, saving you time and money.
And because we are so knowledgeable and passionate about health and safety we won't sell anything that we wouldn't endorse, so you know you can trust it.
We aim to have phase two completed in the next few weeks, so watch this space.
Essential Site Skills' Perfect Website Phase Three
Phase three is going to be a real game changer.
Any L&D Manager or HR Manager know how important keeping full staff training records are. But managing it all when you have loads of staff can be an absolute nightmare, with spreadsheets galore.
Well phase three will make all of that a breeze. Our CRM system will automatically update each individuals' training record for your company with dates, attendance, and pass grades.
It is going to be amazing, and will save you so much time not having to chase down certificates!
The Bells and Whistles
Our new website already has loads of helpful information on.
For example, we are accredited by over 13 separate bodies and are really proud of each one of them. We have worked very hard to achieve and maintain the standards required by each body.
Anyone can provide training, but it takes skill and commitment to be able to provide the standard of training we do. And our accreditations prove that. Have a look at our page here to see them all.
We also have loads of funding information on our website. Some of the courses we provide are free if you reach certain criteria. So, have a look here to see what is free, and what the criteria is.
You can also find out who we all are on our Meet the Team page. Click on each person to see who we are and what we do.
Or, if you decide we look like a good bunch and want to work for us, we have some vacancies here.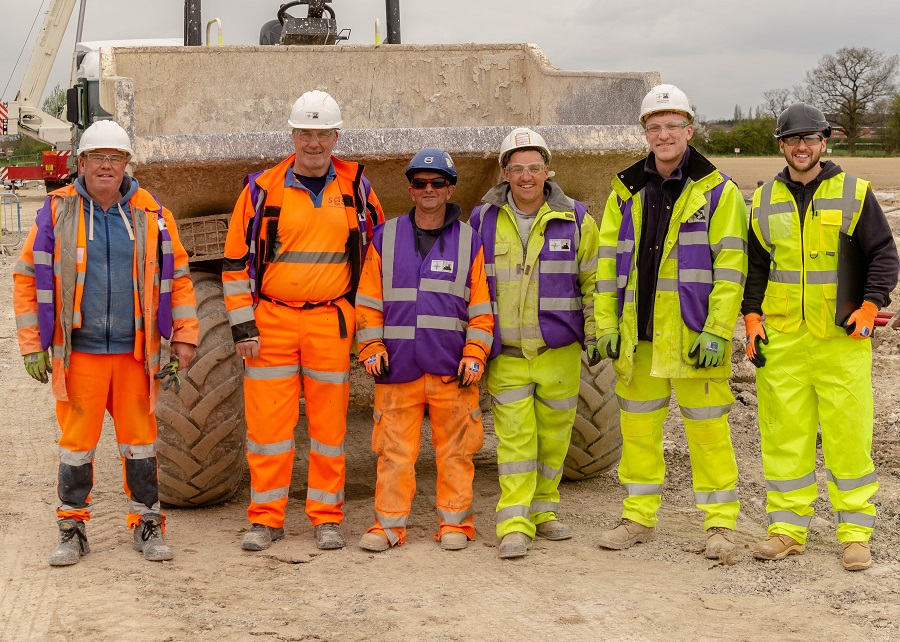 Get in Touch
If there is anything that you want to know that isn't on our website, you can always contact us by filling in the form here or emailing us on info@essentialsiteskills.com
We are always happy to have a chat and answer any questions you might have.