Fit2Fit: Face Fit Testing & Training with ESS
Posted on Friday, 27th November 2020 by Tim

There has never been a more vital time to ensure that workers know how to use their respiratory protection equipment (RPE) correctly. But for RPE to be effective, the equipment needs to be fitted and tested correctly. The only way to ensure tight-fitting respiratory masks are offering the correct protection is by performing an initial face fit test.
Face fit testing is an essential part of health and safety procedure for workers who regularly encounter harmful dusts, gases, or other airborne hazards in their occupation. Today's blog explores the different types of face fit testing available, and how you can find the training you need.
What is face fit testing?
Face fit testing is the only way of checking that tight-fitting face masks are forming a secure seal around the user's face when worn. Without this testing, users cannot be sure their mask is offering full protection from harmful airborne hazards. Ill-fitting masks can cause extreme risks to users, as not all dangerous particles and gases will be prevented from reaching the individual's respiratory system.  
What is Fit2Fit?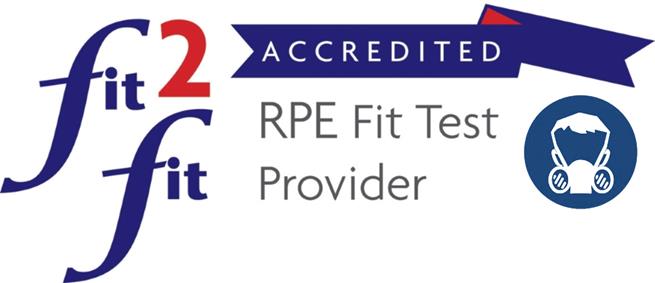 Fit2Fit is an accredited scheme devised by the British Safety Industry Federation (BSIF) and endorsed by the Health and Safety Executive (HSE). Since being established in 2009, Fit2Fit has become a key measure of competence in face fit testing for the construction industry and beyond, establishing standards nationwide. At ESS, all of our face fit trainers have accreditation from Fit2Fit, so you can be sure that our programmes meet the high standards set by the scheme. In addition, our one-day Face Fit Train the Tester is also fully approved by Fit2Fit.
What is the difference between qualitative and quantitative face fit testing?
There are two main types of face fit testing, qualitative and quantitative.
Qualitative face fit testing involves the user's mask being tested by checking whether the wearer can taste a bitter or sweet solution that is applied to the area around the mask. If they can taste the solution, the RPE has failed the test, as it has allowed some particles through to the user's respiratory system.
Quantitative testing is a method performed using particle counting or controlled negative pressure device. From a numerical measurement taken, a Fit Factor (a calculation of the effectiveness of fit) can be established.
Our Fit2Fit-accredited ESS trainers can provide either of these tests, depending on preference of the employer, or the type of RPE intended to be worn.
Is it a legal requirement to have a face fit test?
If somebody is working in an environment where they are likely to come into contact with harmful airborne hazards, fit tested RPE must be issued to workers as a control response. This is a legal responsibility of the employer to protect the health of workers on site.
Face Fit Train the Tester
For certain businesses, it may not be time or cost effective to keep requesting external testing for their equipment. In these cases, it may make more practical sense for the ongoing safety of workers to enrol relevant staff on a face fit train the tester course.
These courses will provide learners with all the theoretical and practical know-how needed to conduct safe and effective face fit testing on colleagues in their workplace. Having a dedicated member of staff on-site who can perform these tests will save many workplaces time, money, and disruption. But more importantly, it will allow fit tests to be carried out efficiently on-site in order to protect the health of working staff.
We provide this training in two varieties; Face Fit Train the Tester and Qualitative Face Fit Train the Tester - Fit2Fit Approved Course:
Qualitative Face Fit Train the Tester - Fit2Fit Approved Course provides successful learners with a Fit2Fit-approved certificate. This course takes place over one full day.
Face Fit Train the Tester is a half-day course which will provide completed learners with an ESS certificate.
Both qualifications are valid for three years, with training delivered by Fit2Fit-accredited trainers.
How long do face fit tests last?
Face fit tests last 7 minutes, however the overall process normally takes 15 - 20 minutes.
How often should you do face fit testing?
Once face fit testing is completed, users will be issued a certificate for use on their RPE. This certificate is only valid for the exact make and model of equipment tested. Any change of RPE will require a new test to be carried out.
Users are also highly recommended to carry out a new test in the event of facial surgery, major dental work, significant weight gain/loss, or any other substantial change to face shape that may impact the fit of the mask. Equipment should also be retested if users are having issues with its performance.
Many workplaces will demand annual testing for their worker's equipment to ensure the safety of their staff at work. If you work around asbestos, annual testing is a legal requirement. You can learn more about the requirements of working around asbestos by reading our 'Guide to Asbestos Awareness'.
Do you need to be clean shaven for a face fit test?
Yes. For any of our face fit testing services, we require all participants to be clean shaven. Facial hair has been proven to interfere with the effectiveness of RPE. You can read the HSE's RR1052 guide to find out the science behind this.
Participants who have pre-existing medical conditions (for example, breathing disorders such as asthma; skin allergies; or even heart problems) may restrict the use of certain types of RPE. You will need to ensure that workers are fit to wear the selected and required RPE. If necessary, alternative RPE such as full masks or hoods may need to be used.
For the qualitative fit tests, participants should not eat, drink (except still, unflavoured water), smoke or chew gum for at least 30 minutes before the test. This is to avoid interference with the participant's sense of taste. For the ambient particle counting fit test, the wearer should refrain from smoking (including e-cigarettes) for at least 60 minutes before the fit test.
Where can I find face fit testing near me?
ESS are delighted to offer our on-site Face Fit Testing services nationwide. No matter where you are in the country, one of our expert trainers will be able to come out to your workplace. To find out more about our in-company training, you can call us on 0115 8970 529 to speak to one of our friendly team members. You can also contact us by email by sending your message to training@essentialsiteskills.com.