WORLD DAY FOR HEALTH AND SAFETY AT WORK 2022
Posted on Friday, 29th April 2022 by Beverley

WORLD DAY FOR HEALTH AND SAFETY AT WORK 2022
"Almost 3million workers die each year from occupational accidents and work related diseases. This is an unacceptable and avoidable human cost. We can and must reduce and eliminate such deaths, injuries and diseases from work." ILO Director-General, Guy Ryder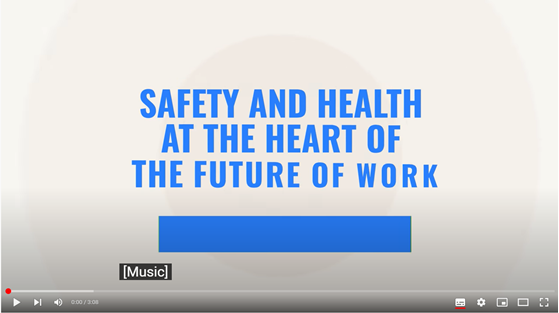 Held on 28th April since 2003, The World Day for Health and Safety at Work is an annual international event observed by the International Labour Organisation (ILO). Designed to promote safe, healthy, and decent overall working conditions.
Every year 217 million accidents or work-related diseases occur on the job.
A National occupational health and safety culture is one in which the right to a safe and healthy environment is respected at all levels, focusing on the critical need for countries to collect and utilise occupational safety and health data (OSH).
Governments, employers and workers across the globe are actively participating in securing safe and healthy working environments through systems of defined rights, responsibilities and duties, and where the highest priority is accorded to the principle of prevention.
So, is The Health and Safety at Work ACT 1974 still relevant for 2022? 
The Health and Safety Act was brought into the UK law in 1974 to cover different types of workplaces, prevent work-related accidents, deaths and illnesses.
The latest available changes to legislation - Health and Safety at Work etc. Act 1974 are (revised) and can be found: https://www.legislation.gov.uk/ukpga/1974/37/contents
Key points to the 1974 Health and Safety at Work Act can be reduced into the following areas (but not limited to): 
Making sure the physical workplace is up to standard. This includes safety, cleanliness, waste management. 
Outdoor working in construction, and agriculture have more factors to consider, examples, using chemicals, mechanical equipment, working from heights.       
Hybrid working from home, periodically or long term – 
Most of the time the risk to employees who work from home will require straightforward actions to protect individuals including, using electrical equipment (computers and laptops) safely, working environment advice on electrical hazards, damage to sockets, plugs, leads overloaded extension cables and reporting work-related accidents.
Building a supportive network into our work-life balance. Everyone may encounter wellness issues at some point either directly or indirectly. Lone working, can create different levels of stress and poor mental health.
All equipment used at work, including computers and electronic devices, need to be maintained ensuing safe use. Periodic safety checks by an appointed person and a set process to report any faults so they can be repaired/renewed. 
Ensure staff are properly trained –
Fostering a safe workplace with responsible and competent staff includes onsite training ensuring all staff have been trained to use equipment properly alongside general health and safety training, manual handling, and fire safety.
Risk assessments are an important part of HASAWA designed so employers can put in place appropriate preventative actions for each risk identified.
Employers to their employees as far as reasonably practicable have a duty of care for the health and safety of their employees. Risk assessments is the key to identifying the level of action that needs to be adopted.
This including the basics, clean working spaces, toilets, clean drinking water, working temperature, and clean air.
If employers provide kitchen facilities all appliances need to be checked and maintained regularly. Employees must take responsibility to keep these areas clean and tidy – everyone should take responsibility for their own Health and Safety at Work.
Businesses need to champion Health and Safety at Work, appointing dedicated persons to oversee health and safety across the workplace –
Oversee health and safety might include routine safety inspections, ensuring all health and safety duties are being carried out and adhered to by employees. Working with health and safety representatives across the business managing safety inspections and working with a union if the organisation has a representative and champion mental wellness. 
Back to the question ? 
Is the Health and Safety at Work ACT 1974 still relevant for 2022?
Well, yes, absolutely, the Safety at Work ACT is there to protect employers and their staff from injury, illness or other forms of workplace misadventures and should be reviewed annually.
Safe workplaces improve productivity, the main benefits of health and safety practices is to reduces absenteeism, it is designed to protect everyone. Preventing common workplace injuries including, back pain, eye strain, injuries from slips and trips and for those who work outdoors in construction related environments preventing falling from height, including the assurance of clean-air, preventing breathing difficulties, asthma, and asbestos-related illness.
It goes without saying, the major reason for The Health and Safety Act 1974 is to protect everyone
It is the key piece of workplace Health and Safety law for Great Britain.
Other more specific regulations also known as 'Management Regs' came into act in 1993, including:
Making assessments of risk to health and safety of workforce, and risks identified, to reduce them
Appointing competent person to oversee workplace health and safety
Providing workers with information and training and occupational health and safety
Operating a written health and safety policy
Conclusion :  Every person have an important part to play in Health and Safety at Work !
- 822-