CCDO Demolition Manager Course
Certificate valid for
Never expires
Grant Available
Selected Dates
Book this course today. Call 0115 8970 529 or click here to send us a message
The 5 Day Demolition Managers Course is aimed at key personnel who are actively involved in the site management & contracts management of a Demolition project.
A candidate must meet the following criteria to obtain entry onto this course:
A good understanding and practical application of spoken and written English
A candidate must also hold a valid Managers Health, Safety & Environment (HS&E) Test (passed within the last two years)
Minimum of 5 years experience in the Demolition Industry
Candidates should have experience of supervisory responsibilities in their current role
Candidates must be able to prepare a task specific method statement
Be able to prepare a standard Risk Assessment for the task
Be able to record day to day activities in a site diary and have examples of their work
Describe the basic topics to be briefed in a demolition specific induction
Be able to explain the PPE/RPE requirements for - Asbestos, Noise and Oxy Fuel Cutting
Be able to explain the basic statutory weekly site checks
Be able to record basic meeting minute points
CCDO 5 Day Demolition Managers Course Objective
On completion of the 5 Day Demolition Managers Course & Assessment, candidates will have demonstrated a greater understanding of all aspects of project management and how to run a demolition site effectively. Candidates will also have a greater understanding of Behavioural Safety in the Workplace and will have acquired skills to transfer back into the workplace which will assist with the effective and safe management of their team.
Supervised Duties
Liaison with client's team
Liaison with work team
Preparation, review and implementation of RAMS
Liaise with surveyors, engineers, other trades and third party stakeholders
Regular communication with supervisors
Implementation of HSQE systems
Assessed by examination on the last day in the preparation of RAMS.
On completion of the 5 Day Manager Course, candidates will be issued with a Trained Operator Demolition Manager Card: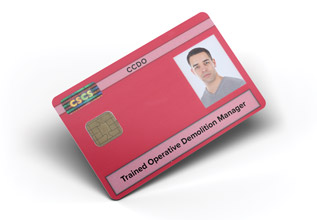 This card is temporary for 3 years in which time the candidate must register and achieve the Level 6 NVQ in Construction Site Management - Demolition.
On completion of the NVQ qualification, along with a valid Manager Health, Safety & Environment (HS&E) Test, valid Asbestos Awareness Certificate (not e-learning), you will be able to apply for the Demolition Managers Card: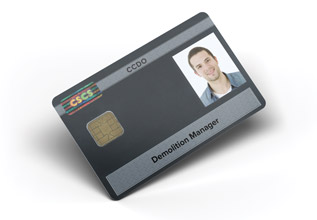 About NDTG
The National Demolition Training Group (NDTG) was formed in 1978 with the sole objective of providing specific and relevant training opportunities to demolition workers.
NDTG administers the CCDO Card Scheme (Certificate of Competence for Demolition Operatives).