CCDO Demolition Supervisor Course
Certificate valid for
Never expires
Grant Available
Selected Dates
Book this course today. Call 0115 8970 529 or click here to send us a message
The 5 Day Course is aimed at Demolition Supervisors with the following Minimum Entry Requirements:
A candidate must also hold a valid Supervisor Health, Safety & Environment (HS&E) Test (passed within the last two years)
A valid Asbestos Awareness Course Certificate (NDTG, UKATA, ARCA, or CAD Approved within the last year - online courses not accepted)
A good working understanding and practical application of both spoken and written English
Minimum of 5 years' experience in the Demolition Industry
Candidates should have basic supervisory responsibilities in their current work role
CCDO 5 Day Demolition Supervisor Course Content
Maintain Systems for Health, Safety, Welfare and Environmental Protection
Assess and Recommend Work Methods
Plan Work Activities and Resources to Meet Work Requirements
Co-ordinate Work Control
Control Work Progress Against Agreed Programmes
Allocate and Monitor the Use of Plant, Equipment or Machinery
Develop and Maintain Good Working Relationships
Allocate Work and Check People's Performance
Plan Demolition Activities
Supervise Demolition Activities
Maintain Supplies of Materials to Meet Project Requirements
Implement Communication Systems for the Project
Control Work Against Agreed Quality Standards
Hand Over Property
Temporary Works Supervision please see course synopsis for full details
Duties of a Demolition Supervisor
Responsible for demolition operations on site
Regular communication and liaison with work team
Implementation and revision of RAMS
Resident Liaison
Preparation and delivery of Site induction and task briefings
Reporting to management
Implementation of HSQE systems
Tool Box Talk preparation and delivery
Assessed by examination on the last day in the preparation of RAMS.
On completion of the 5 Day Supervisor Course, operatives will be issued with a Trained Operative Supervisor Card: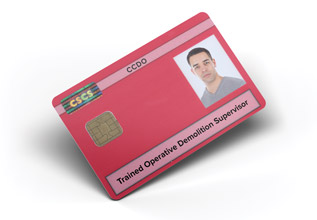 This card is temporary for 3 years in which time the candidate must register and achieve the Level 4 NVQ in Construction Site Supervision - Demolition.
On completion of the NVQ qualification, along with a valid Supervisor Health, Safety & Environment (HS&E) Test, valid Asbestos Awareness Certificate (not e-learning), you will be able to apply for the Demolition Supervisors Card: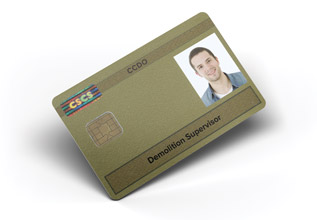 About NDTG
The National Demolition Training Group (NDTG) was formed in 1978 with the sole objective of providing specific and relevant training opportunities to demolition workers.
NDTG administers the CCDO Card Scheme (Certificate of Competence for Demolition Operatives).