IOSH Managing Safely
Certificate valid for
Never expires
Grant Available
Selected Dates
IOSH Managing Safely is the market-leading health and safety course designed for line managers or those with responsibility for other people. Ideal for any sector and any organisation worldwide, the course gives an introduction to health and safety so that you can apply your knowledge in the workplace with confidence and enthusiasm. Whether you're looking for a face to face or a virtual IOSH course, we can provide the flexibility you need with our experienced team of IOSH trainers.
Managing Safely is unlike any other safety and health course. Why? Because it delivers practical step-by-step guidance with a sharp business focus that's hands-on and jargon-free. The innovative format and content is engaging and inspiring – critical to embedding safety and health throughout your entire organisation.
Because every manager needs an understanding of their safety and health responsibilities!
IOSH Managing Safely Online Course – Virtual Classroom
We can now deliver this through interactive Video Learning, for those working remotely that wish to achieve their IOSH Managing Safely qualification. Please contact us on 0115 8970 529 or email [email protected] for more information.
IOSH Managing Safely Course Overview
Managing Safely is designed for managers and supervisors in any sector, and any organisation worldwide. They won't suddenly become safety experts – but they'll get up-to-speed on the practical actions they need to take, and gain the knowledge and tools to tackle the safety and health issues they're responsible for. Importantly, Managing Safely makes a powerful case for safety and health being an integral part of day-to-day management and business.
What Does the Business Get?
Peace of mind from training that's designed and quality-controlled by the Chartered body for safety and health professionals, IOSH
Flexibility – the programme can be delivered flexibly so that it suits your business
Efficient and effective learning – health, safety and environmental basics are covered in a single programme
Globally-recognised, respected and certificated training for your managers and supervisors
Memorable and thought-provoking facts and case studies from across the globe help drive the points home over the whole course. Each module is backed by crystal-clear examples and recognisable scenarios, and summaries reinforce the key learning points.
IOSH Managing Safely Course Covers
Assessing risks
Controlling risks
Understanding responsibilities
Understanding hazards
Investigating incidents
Measuring performance
What Results Can I Expect on the IOSH MS Course?
Greater productivity, from fewer hours lost due to sickness and accidents
Improved company-wide safety awareness culture and appreciation of safety measures
Active staff involvement to improve the workplace
Enhanced reputation within your supply chain
Learner Numbers
In order to ensure the interaction between the learners and the tutor is spread evenly and effectively, the maximum number of learners allowed on a course is twenty.
At the end of the IOSH Managing Safely course candidates will be require to carry out the following:
A practical risk assessment based project
A short exam (25 multiple-choice questions)
Delegates are responsible for submitting their assessments within the required timescales. If assessments are not submitted by this time the candidate will fail the course.
Successful delegates will be awarded an IOSH Managing Safely certificate.
IOSH recommends that delegates refresh their training every three years to keep their knowledge up to date.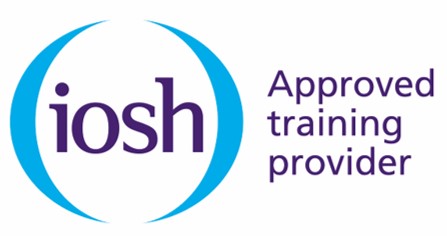 Progression
Many people that study the IOSH Managing Safely qualification go on to study for a NEBOSH Certificate (General, International, Construction and/or Fire Certificates).
Top 5 Business Benefits
Greater productivity – fewer hours lost to sickness and accidents
Improved organisation-wide safety awareness culture and appreciation of safety measures
Active staff involvement to improve the workplace
Internationally recognised certification for managers and supervisors
Enhanced reputation within the supply chain
Top 5 Delegate Benefits
Ensures you can assess and control risks and hazards
Ensures you understand your own responsibilities for safety and health
Enables you to investigate incidents
Empowers you to measure your own performance
Allows for personal reflections on good practice