Level 2 NVQ in Construction Operations - Construction Operations
This NVQ is eligible for a CITB qualification grant.
The Construction Operations NVQ level 2 qualification structure below specifies the combination of units that need to be achieved for the individual to be awarded the qualification.
Blue CSCS Card
On completion of your NVQ qualification, along with passing the relevant CITB HS&E test (within the last 2 years), you will be able to apply for the blue CSCS skilled worker card.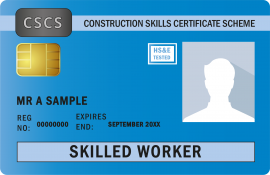 L2 NVQ Diploma in Construction and Civil Engineering Operations - Construction Operations
Minimum Credit Value: 40
Reference: 603/3611/0
To achieve this qualification a minimum of 6 units need to be attained. This comprises the 4 units from the Mandatory Group plus ONE unit from the Optional Unit Group A AND ONE unit from Optional Group B.
Mandatory Units
Credit Value: 20 | Units Required: 4
Title
Credits
Level
Unit Description
Conforming to General Health, Safety and Welfare in the Workplace
Credits: 2
Level: 1
More info

about this unit

Unit Description
Conforming to Productive Working Practices in the Workplace
Credits: 3
Level: 2
More info

about this unit

Unit Description
Installing, Maintaining and Removing Work Area Protection and Safety Equipment in the Workplace
Credits: 10
Level: 2
More info

about this unit

Unit Description
Moving, Handling and Storing Resources in the Workplace
Credits: 5
Level: 2
More info

about this unit
Optional Units
Credit Value: 20 | Units Required: 2
| Title | Credits | Level | More info |
| --- | --- | --- | --- |
| GROUP A - Installing drainage in the workplace | 19 | 2 | More info |
| GROUP A - Pouring concrete to form structures in the workplace | 13 | 2 | More info |
| GROUP B - Controlling, Directing and Guiding the Operation of Plant or Machinery in the Workplace | 18 | 2 | More info |
| GROUP B - Cutting, drilling and shaping construction related materials in the workplace | 12 | 1 | More info |
| GROUP B - Erecting and Dismantling Access/Working Platforms in the Workplace | 8 | 2 | More info |
| GROUP B - Identifying and marking the location of utilities apparatus and sub-structures in the workplace | 12 | 2 | More info |
| GROUP B - Installing, Constructing, Maintaining, Dismantling and Removing Temporary Works in the Workplace | 22 | 2 | More info |
| GROUP B - Installing, maintaining and removing temporary excavation support in the workplace | 16 | 2 | More info |
| GROUP B - Laying, placing or applying construction related materials in the workplace | 14 | 1 | More info |
| GROUP B - Locating and excavating to expose buried utility services in the workplace | 13 | 2 | More info |
| GROUP B - Preparing and Mixing Concrete and Mortars in the Workplace | 8 | 1 | More info |
| GROUP B - Preparing and mixing construction related materials in the workplace | 14 | 1 | More info |
| GROUP B - Preparing and operating forward tipping dumpers to receive, transport and discharge materials in the workplace | 16 | 2 | More info |
| GROUP B - Preparing and operating powered units, tools or pedestrian plant, machinery or equipment in the workplace | 7 | 2 | More info |
| GROUP B - Preparing and operating ride-on rollers to compact materials in the workplace | 16 | 2 | More info |
| GROUP B - Reinstating ground condition in the workplace | 13 | 2 | More info |
| GROUP B - Slinging and hand signalling the movement of suspended loads in the workplace | 10 | 2 | More info |