Level 2 NVQ in Roofing Occupations - Roof Tiler
This NVQ is eligible for a CITB qualification grant.
The qualification structure below specifies the combination of units that need to be achieved for the individual to be awarded the qualification, for those working as a Roof Tiler within the construction industry.
Blue CSCS Card
On completion of your NVQ qualification, along with passing the relevant CITB HS&E test (within the last 2 years), you will be able to apply for the blue CSCS skilled worker card.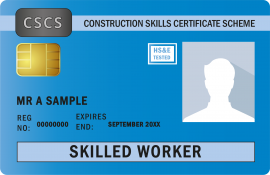 L2 NVQ Diploma in Roofing Occupations (Construction) - Roof Tiler
Minimum Credit Value: 62
To achieve this qualification a minimum of 62 credits need to be attained. This comprises the 7 mandatory units.
Mandatory Units
Credit Value: 62 | Units Required: 7
Title
Credits
Level
Unit Description
Moving, Handling and Storing Resources in the Workplace
Credits: 5
Level: 2
More info

about this unit

Unit Description
Installing Single-Lap Roof Coverings to a Variable Gauge in the Workplace
Credits: 14
Level: 2
More info

about this unit

Unit Description
Installing Roofing Backgrounds and Components in the Workplace
Credits: 10
Level: 2
More info

about this unit

Unit Description
Installing Pre-formed Weathering Flashings to Roofs in the Workplace
Credits: 10
Level: 2
More info

about this unit

Unit Description
Installing Plain Tile Roof Coverings in the Workplace
Credits: 18
Level: 2
More info

about this unit

Unit Description
Conforming to Productive Working Practices in the Workplace
Credits: 3
Level: 2
More info

about this unit

Unit Description
Conforming to General Health, Safety and Welfare in the Workplace
Credits: 2
Level: 1
More info

about this unit