Ways to Pay | Frequently Asked Questions

Pay Online
For any purchases you make directly from our website, you can pay directly using either a debit or credit card. We accept all major cards including VISA, MasterCard and American Express.
Over the phone
You can also purchase and pay for your training by speaking directly to a member of our team. Call us on 0115 8970 529 and our team will be happy to assist you. Make sure you have your payment card to hand in order for us to process the transaction.
Payl8r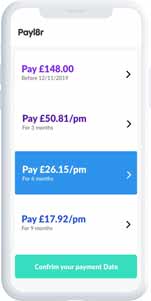 At ESS, we understand that you might not always have the funds available to get the training you need. This is why we now accept payment for online bookings through Payl8r.
Payl8r allows you to pay for your training in instalments rather than all in one go. Their flexible repayment plans make training more affordable as you can spread the costs across several monthly payments if you don't have all the funds immediately. You can pay within 30 days interest-free.
Payl8r could not be easier to use. Just follow these 3 simple steps.
Click the Payl8r option at the checkout
Select deposit, instalment plan & complete the 60 second application form.
Confirm your order
You can also set up an account with them to make future payment with Payl8r easier and quicker. This method of payment is only for bookings made directly through our website and cannot be used for e-learning.
Funding
If you are still struggling to find the necessary funds to get the training you need, it may be worth looking at our funding options. Depending on your location and employment status, you may be able to access fully or partly funded training.
ESS have access to funding bodies such as the European Social Fund, ELCAS, AEB and CITB grants where eligible, in order to help people get the training they need to find employment or upskill in their current role. Head over to our funding page to find out more.
Paypal
We also accept payment through Paypal for our e-learning courses. Paypal are a secure way of store your payment details and paying for products online. To use this, you will need to have setup a Paypal account by heading over to their website. Please be aware that we currently only accept Paypal payment for our e-learning courses.