This week, the Health and Safety Executive (HSE) continues site inspections as part of their #dustbusters #WorkRight initiative. Focusing on London firms and asbestos, HSE will continue to visit sites until February 17th. With that in mind, how much do you think your employees know about the dangers of asbestos? And how can you further enhance awareness of the construction industries 'slow killer'?
#Dustbusters March On
We have already written about the HSE dustbusters campaign a few times, including an update in December. So far, HSE has already issued 142 notices and 42 prohibition notices to firms that were found to not be protecting employees from dust hazards or putting enough control measures in place.
Now after a break, HSE will continue to visit construction sites to ensure that employees are familiar with the risk asbestos poses, properly plan their work and are able to use the right controls. Where poor standards are found, enforcement action will be taken. Up until February 17th, HSE will focus on London construction companies – are you prepared for a visit?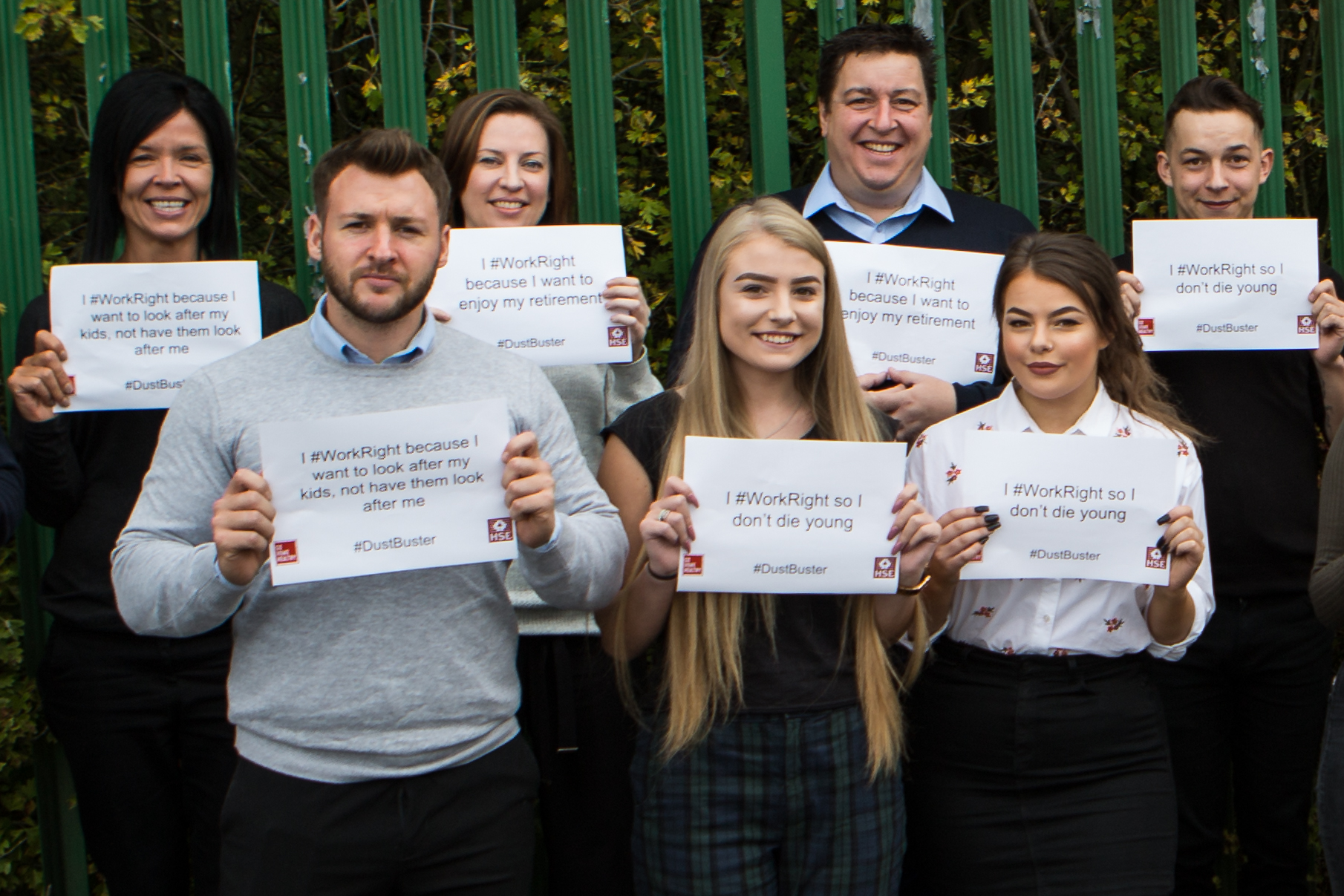 Asbestos – The Slow Killer
Despite widespread campaigning and news stories like this one, workers in the construction industry are still woefully unaware of the dangers of asbestos.
Last year, Construction News reported that 'a third of construction workers don't know that asbestos can cause cancer'. Maybe HSE is proposing this concentrated effort on London firms as it was also reported that awareness is particularly lacking in our capital; almost two-thirds of workers didn't know about the dangers of asbestos.
Asbestos is often called the 'slow killer' as the effects that exposure can have, often take many years to become apparent. HSE reckon that this could be one of the reasons that awareness is low. Workers who are exposed to asbestos won't know they are ill until years after they have retired in some cases.
The dangers of asbestos aren't obvious when compared to a visible hazard that has an immediate effect, a fall from a height, for example. By nature, humans can spot danger and are pretty good at keeping ourselves safe. A construction worker near the edge of a high building would know that a fall would cause death - or at least serious injury. But because we can't see asbestos or smell asbestos, our 'danger monitor' doesn't recognise the hazard.
This lack of recognition and awareness is why HSE is keen to see what construction firms have in place when it comes to asbestos. It's also why many charities, such as the Mavis Nye foundation are dedicated to highlighting the dangers.
Here at Essential Site Skills, we also play a part in raising awareness with various programmes and training courses offered. We even won an award last year, from the UK Asbestos Training Association (UKATA) for our advertising and marketing of our Asbestos Safety and Awareness seminars.
UKATA Asbestos Awareness Training
If you think your employees could do with a reminder of the dangers of asbestos, then why not consider booking them onto a UKATA Asbestos Awareness course?
After successfully completing the half-day course, your employees should:
Have an increased awareness of the nature and properties of asbestos and its effects on health
Be familiar with the types, uses and likely occurrences of asbestos
Know how to avoid the risks from asbestos by understanding where to obtain information on asbestos in premises prior to commencing work and what to do if suspicious materials are found
Know how to use appropriate workplace precautions, including the risk assessment process, or seek advice on workplace precautions, in respect of the risks of asbestos
Be able to undertake work activities in a safe manner and without risk to themselves or others
Have an awareness of the key aspects of the asbestos regulations and how they fit into the broader context of health and safety legislation
Understand the procedures to be followed when coming into unintentional contact with ACM's and an understanding of the appropriate emergency arrangements.
Please get in touch if you would like more information on this course and where and how the content can be delivered to your teams.