What is TWCTC?
Posted on Friday, 3rd September 2021 by Tim

On most construction projects there will be some form of temporary works needed to complete building work . The dangers and complexities of working with these structures means it's essential for workers to have the appropriate level of management overseeing operations.
TWCTC is the ideal training course for temporary works co-ordinators on construction sites, ensuring that operations involving temporary works are completed in a safe way. This week's blog takes an in-depth look at how this qualification can create safer working environments on construction sites.
What are Temporary Works?
Temporary works are just what the name suggests; temporary structures put in place during construction projects that allow workers to access areas at height or in difficult to reach areas. While the most common form of temporary works are scaffolding, there are other types available which are used for different types of work, including:
Props and shoring - poles or beams used as temporary support or to hold something in place
Falsework - temporary structures used to support a permanent structure until its construction is sufficiently advanced to support itself
Formwork - temporary or permanent moulds in which concrete is poured
Excavation support - any temporary structure put in place to aid excavation work such as trenches, slopes and stockpiles
Almost every construction project will need some form of temporary works in place, so it's necessary for all workers to understand the risks involved when using them. Falls from height, caused either by poor working practice or the collapse of structures, are serious health risks which need to be appropriately managed. In 2020/21, 25% of all fatal injuries at work were caused by falls from height.
This is where TWCTC training comes in…
What does TWCTC stand for?

TWCTC stands for Temporary Works Co-ordinator Training Course. This CITB course is specifically tailored for workers who have, or are about to have, responsibility for the management of temporary works on construction or building sites. This 2-day course will provide successful learners a qualification that is recognised country-wide.
What is the role of a temporary works co-ordinator?
According to the HSE, the temporary works co-ordinator (TWC) "is responsible for ensuring that the contractor's procedures for the control of temporary works are implemented on site." It's their duty to ensure workers are using the equipment in a safe way in accordance with health and safety law, specifically BS 5975.  
The TWC needs to ensure workers are fully aware of their responsibilities to protect themselves, colleagues and members of the public when working around temporary works. This involves tasks such as carrying out risk assessments to highlight particular hazards that pose a risk for their workforce.
Many organisations may have a temporary works supervisor (TWS) as well as (or instead of) a co-ordinator. While their responsibilities on site may have a lot of crossover, the roles are different. For example, supervisors often oversee the erection and dismantling of temporary works structures, unlike co-ordinators. For more information on the difference between a temporary works co-ordinator and supervisor, keep your eyes peeled for next week's blog…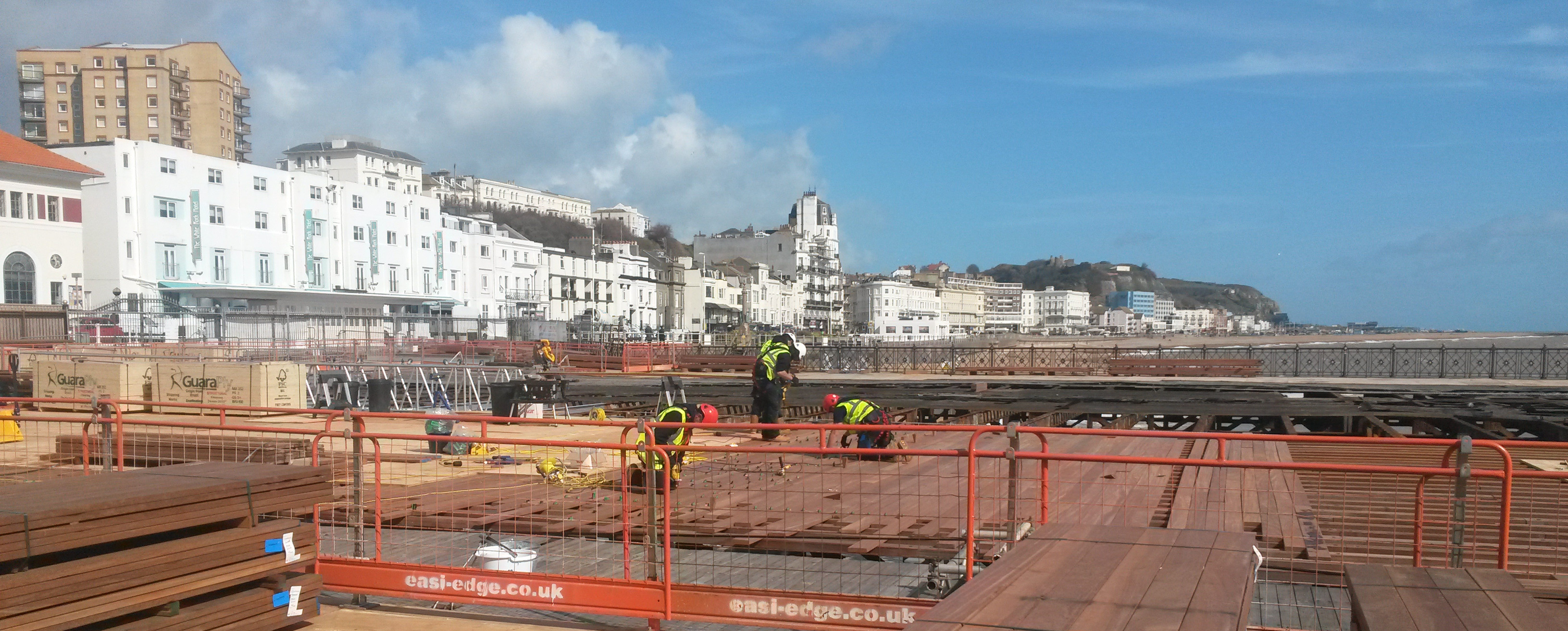 What does TWCTC involve?
Learners on the Temporary Works Co-ordinator Training Course will develop all the key knowledge required of anyone overseeing the management of temporary works on construction sites. This will include a full run down of the health and safety legislation that is relevant for their role and responsibilities.
On this course learners will develop know-how on using the '4 Cs' in the role. These are:
Communication
Co-ordination
Co-operation
Competency
These 4 principles are essential when operating around temporary works in order to establish safe working practice on site.
This course culminates in a 25 question multiple choice exam. This exam is straightforward, with all the information needed to answer these questions correctly supplied by the trainer over the duration of the course. The pass mark for the exam is 72%. Free re-sits are available for those who score 64% or over but fail at their first attempt.
How long does temporary works co-ordinator last?
Once you have been issued with your TWCTC certificate, it is valid for 5 years. You can keep track of how long you have left on your certificate and when you need to renew your training by using the CITB Card Checker. Your training details are automatically added to this database upon completion, allowing managers to check your qualifications without needing your physical certificate.
Is TWCTC a legal requirement?
TWCTC is not a legal requirement, but it is highly advised for those who manage temporary works on site. Many organisations will demand that their co-ordinators have this qualification and will not let them fulfil this role on a permanent basis until it has been completed.
Temporary Works Coordinator near me
ESS deliver CITB TWCTC on-site nationwide, at venues around the UK and online courses via Zoom. To find out which locations and dates we currently have available for this course, head over to our training calendar.
To see a full list of the courses we provide, check out our online course index. If you have any further questions you can call us on 0115 8970 529, or send an email to [email protected]