Level 2 NVQ in Drilling Operations - Land Drilling - Lead Driller
This NVQ is eligible for a CITB qualification grant.
The Land Drilling - Lead Driller qualification structure below specifies the combination of units that need to be achieved for the individual to be awarded the qualification, so you can work as a competent lead driller within the construction industry. This pathway is specifically designed for those learners involved in the operation of a wide range of drilling equipment across a range of drilling environments.
Blue CSCS Card
On completion of your NVQ qualification, along with passing the relevant CITB HS&E test (within the last 2 years), you will be able to apply for the blue CSCS skilled worker card.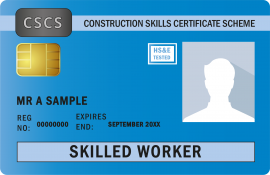 L2 NVQ Diploma in Drilling Operations - Land Drilling - Lead Driller
Minimum Credit Value: 91
Reference: 603/3841/6
The learner must achieve 7 units from the Mandatory Group plus at least 1 unit from the Optional Group
Mandatory Units
Credit Value: 89 | Units Required: 7
Title
Credits
Level
Unit Description
Carry Out Operator Maintenance on Drilling Plant and Equipment
Credits: 2
Level: 2
More info

about this unit

Unit Description
Conform to Efficient Working Practices in the Workplace
Credits: 3
Level: 2
More info

about this unit

Unit Description
Contribute to Maintaining Health, Safety and the Environment in the Drilling Workplace
Credits: 5
Level: 2
More info

about this unit

Unit Description
Drill Holes to Specification and Operational Requirements
Credits: 43
Level: 2
More info

about this unit

Unit Description
Locating and Identifying Underground Services
Credits: 12
Level: 2
More info

about this unit

Unit Description
Operate and Control Drilling-Related Powered Plant or Machinery
Credits: 12
Level: 2
More info

about this unit

Unit Description
Set up Protection and Safety Equipment for the Work Area
Credits: 12
Level: 2
More info

about this unit
Optional Units
Credit Value: 2 | Units Required: 1
| Title | Credits | Level | More info |
| --- | --- | --- | --- |
| Measure and Set Out Dimensional Control for the Drilling Requirement | 2 | 3 | More info |
| Receive and Organise Materials and Equipment for the Drilling Activity | 3 | 2 | More info |
| Reinstate the Drilling Area of Operations and Complete Works | 4 | 2 | More info |
| Undertaking Mud, Slurry or Fluid Plant Operations in the Workplace | 26 | 2 | More info |
| Unload and Load Mobile Plant and Equipment from Transportation | 4 | 3 | More info |