Level 2 NVQ in Piling Operations - Piling Operative
This NVQ is eligible for a CITB qualification grant.
The Level 2 NVQ Piling Operative qualification structure below specifies the combination of units that need to be achieved for the individual to be awarded the qualification.
Blue CSCS Card
On completion of your NVQ qualification, along with passing the relevant CITB HS&E test (within the last 2 years), you will be able to apply for the blue CSCS skilled worker card.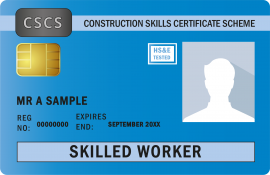 L2 NVQ Diploma in Piling Operations (Construction) - Piling Operative
Minimum Credit Value: 51
Reference: 601/4995/4
To achieve this qualification a minimum of 51 credits need to be attained. This comprises of 44 credits from the Mandatory Group, plus 7 credits from the Optional Group.
Mandatory Units
Credit Value: 44 | Units Required: 5
Title
Credits
Level
Unit Description
Conforming to General Health, Safety and Welfare in the Workplace
Credits: 2
Level: 1
More info

about this unit

Unit Description
Conforming to Productive Working Practices in the Workplace
Credits: 3
Level: 2
More info

about this unit

Unit Description
Contributing to the Piling Operation in the Workplace
Credits: 24
Level: 2
More info

about this unit

Unit Description
Moving, Handling and Storing Resources in the Workplace
Credits: 5
Level: 2
More info

about this unit

Unit Description
Slinging and hand signalling the movement of suspended loads in the workplace
Credits: 10
Level: 2
More info

about this unit
Optional Units
Credit Value: 7 | Units Required: 1
| Title | Credits | Level | More info |
| --- | --- | --- | --- |
| Allocating and Monitoring the Use of Plant, Machinery or Equipment in the Workplace | 9 | 3 | More info |
| Carrying out mud, slurry or fluid plant operations in the workplace | 21 | 2 | More info |
| Carrying Out Tremie Operations in the Workplace | 26 | 2 | More info |
| Guiding the Piling Rig for the Formation of Piles in the Workplace | 22 | 2 | More info |
| Preparing and operating 180 degree excavators to extract and excavate ground and loose materials in the workplace | 80 | 2 | More info |
| Preparing and operating 360 degree excavators to extract ground, face and/or loose materials in the workplace | 80 | 2 | More info |
| Preparing and operating powered units, tools or pedestrian plant, machinery or equipment in the workplace | 7 | 2 | More info |
| Preparing and operating skid steer loaders to extract loose materials in the workplace | 20 | 2 | More info |
| Preparing and operating tracked loading shovels to extract ground and loose materials in the workplace | 80 | 2 | More info |
| Preparing and operating wheeled loading shovels to extract loose materials in the workplace | 26 | 2 | More info |