Moldex Air Plus ProValve FFP3 R D - (Box of 5)
Moldex Air Plus ProValve FFP3 R D - (Box of 5)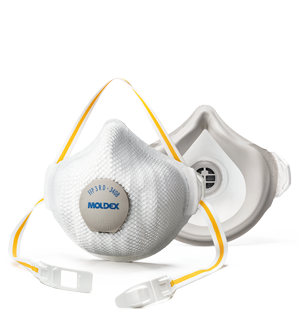 FFP3 Reusable Face Mask -Moldex 3408 Valved Air Plus Pro
FFP3 reusable face mask – the Moldex 3408 Valved Air Plus Pro FFP3 Reusable Face Mask is a reusable FFP3 Mask to gives very low breathing resistance.
It uses an AirWave® Filter to provide comfortable breathing for the wearer. It uses a built in ProValve® to reduce moisture in the mask and sits comfortably on the wearers face. The Moldex 3408 uses an anatomically shaped TPE full face seal to provide maximum protection.
Its DuraMesh structure makes it strong and durable, reducing chances of the mask being damaged. Its ActivForm technology means no nose clip is required for the wearer.
This Moldex 3408 FFP3 Valved Face Mask is sold in a box of 5.
£29.98 exc.VAT
£35.98 inc. VAT