Health & Safety and The Construction Industry
Posted on Thursday, 19th July 2018

Health and safety in the construction industry is an essential and necessary part of everyone's job, from labourers to site managers. It's no secret that the industry is a dangerous one and workers face many hazards and challenges. It's for that reason that health and safety training, alongside more specialist training, is something that everyone working on site must undertake.
In this week's blog post we are looking at some of the dangers associated with construction and areas where we can help with specialist training. 
The Dangers in Construction
According to statistics from the Health and Safety Executive (HSE), there were 144 fatal injuries across UK workplaces in the past twelve months. Unsurprisingly, construction had the most deaths out of all the industries. 
The data shows that 38 people were killed in construction. That's quite a rise after a low record year of 30 deaths in the previous 12 months.
It's not just workers who are at risk in the industry either; the statistics also show that six members of the public died in incidents connected to construction work.
Is There a Health and Safety Problem in the Industry?
It doesn't seem like there is a week where there isn't a news story about a death or injury in the construction industry. Just this week a contractor was airlifted to hospital with serious injuries after an accident at the Sirius Minerals site at Wilton.
Lawrence Waterman, chairman of the British Safety Council, thinks that the increased number of deaths may be a budget issue; he said: 'This increase in workplace deaths may be the first sign of the effect of years of budget austerity, although the government cuts to health and safety investment have been taking a while to impact on workers.'
We aren't so sure there is an issue though, here at ESS we work with many construction firms, all of which take health and safety seriously. As the above news stories show, neglect does and will continue to happen. But, it's a minority – on a whole, the construction industry sees the safety of their staff and the public as a top priority.
The HSE figures from this year seem shocking (construction worker deaths increased by 27% this year as seen above), that is because the previous year had an unusually lower number of fatalities. Figures show that there has been a long-term reduction in the number of fatalities in the industry since 1981 and that the figures have remained broadly level in recent years.
What are the Hazards in Construction?
The fact remains that despite the best intention in the world, hazards do exist, and health and safety training and education must be put in place to lower the risks.
The HSE report we have referenced in this blog features a break down of causes of fatal accidents, they are:
Falls from height
Being struck by a moving vehicle
Struck by a moving object
Trapped by something collapsing / overturning
Contact with moving machinery
By far the biggest hazard is falling from a height; 35 of the 144 workers killed in the past twelve months suffered from a fall.
Falls can be a hazard in construction when proper fall protection is not fitted or supplied at sites. Construction companies must take the following steps to ensure the safety of construction site workers:
Fit a rail and toe-board around every elevated open side platform, floor, as well as around dangerous machines and equipment.
Supply safety harnesses and lines, safety nets, stair railings and handrails if the site requires it.
Provide personal protective equipment (PPE) to staff and then train them about the hazards of the site.
It's also a good idea to provide workers with additional specific training, such as Working at Height Awareness or Working at Height Rescue Training. Where Working at height cannot be avoided or designed out, a robust Safe Systems of Work will have to be properly planned and implemented. 
One employer taking Working at Height very seriously by implementing bespoke training is Aykon London One.
Aykon London One, set to be complete in 2020 is a residential development that poses many challenges to those involved in its construction. One of the towers will be 50 storeys high so it's essential that health and safety is a priority on such a tall building.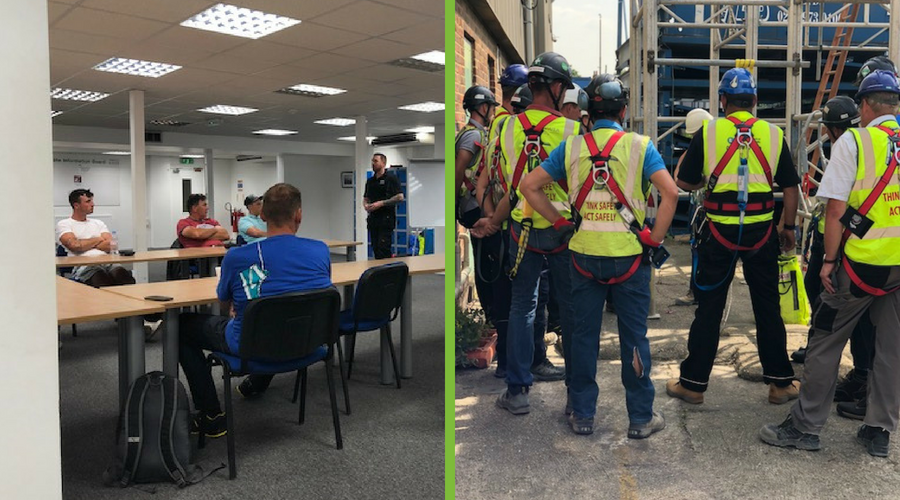 We have been onsite and, in the classroom, delivering bespoke training, using their own images for training which reflects their equipment and behaviour skills. Little touches to go that extra yard to prevent complacency during site operations, shows the kind of team behind Aykon.
Health and Safety Training for the Construction Industry
As well as helping prepare the construction team at Aykon, we have been contracted for several other high-profile projects.
Construction industry bosses are aware of the risks and are prepared to train staff properly to help keep them safe.
Another employer we are going to be working with is the Berkley Group, who have asked us to deliver UKATA Asbestos Awareness. This project was provided for the management team, to support them on the awareness of asbestos and where asbestos is present, as it may have to be designed around, managed or removed.  This course was put into place to provide awareness to safeguard employers, employees and the public, as Goodman's fields is a huge development mixed with residential, commercial and public buildings. Key planning and communication are vital when dealing with asbestos and the Berkeley group are a fine example of this, team meetings on working together to achieve everyone's health & safety. 
In addition to supporting with asbestos awareness, we have also provided training for Construction Site Management, Underground Cable Avoidance, CPCS and Temporary Works Training, continuing to provide full support in all areas of operations.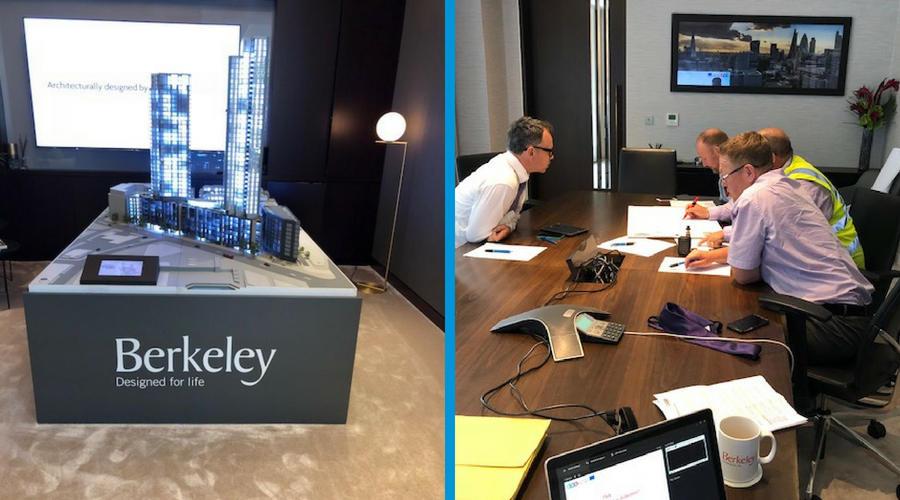 Another exciting project we will be working on with the construction team is the new UK Google HQ at Kings Cross, London! Construction on the purpose-built 11-storey building, comprising of more than 1 million square feet, of which Google will occupy 650,000 sq. ft will commence soon and we will be assisting with training.
Essential Site Skills
The latest figures from HSE are a timely reminder of how important it is to properly train employees in the construction industry, in addition to adding safety equipment. As you can see from our example clients, many construction bosses invest a lot of time in doing just that.
To speak to us about any aspect of training in the construction industry, please get in touch via our contact page or call us on 0115 8970 529. We are one of the leading suppliers of training to the construction industry and offer a huge range of courses, many of which can be delivered on site. Use the search bar at the top of the page to find a course suitable for you or your staff.