Your Guide to Health and Safety Training at Work
Posted on Friday, 2nd October 2020 by Tim

Ensuring the welfare and safety of staff members has to be the main priority of every employer. No matter the environment or level of risk workers face and a day-to-day basis, following health and safety legislation is a legal and moral duty.
In today's blog we take a look at some of the essential training needed in every workplace, and look at how this will help employers meet their obligations under the Health and Safety at Work etc Act 1974.
What is the Health and Safety at Work etc Act 1974?
When it comes to protecting employees at work, the Health and Safety at Work etc Act 1974 (HSWA) is a key piece of legislation. This act lays out many of the legal duties that employers have to meet in order to protect anyone entering their premises.
While every workplace is different, there are certain types of risks that can occur in every working environment. To protect workers and to ensure they are meeting their obligations under the HSWA, there are certain key pieces of training that need to be in place within the workforce.
First Aid
One of the most important pieces of training required in any workplace is first aid. This training gives workers the knowledge and practical skills of how to react in the event of an accident or injury.
The immediate response in the event of an accident can be critical in reducing injury severity and has the potential to save the individual's life. First aid is particularly critical in the event of choking, heart attacks, heavy bleeding or the individual being unconscious. Reducing the rate of deterioration for the injured person until the emergency services arrive at the scene can be the difference between life and death.
It is a legal duty for employers to have at least one trained first aider on site at any given time. This means it may be necessary for multiple members of staff to have first aid training in order to cover for absences, or people working away from the office.
At ESS, we provide two main first aid courses which provide practical skills and knowledge of first aid for workers in a variety of low-risk workplaces, such as offices:
While both courses cover the essential techniques and knowledge required to effectively provide first aid a number of emergency scenarios, the First Aid at Work course takes place over three days, as opposed to the Emergency First Aid at Work, which just takes one. These two extra days allow learners to develop further understanding of the theory and practice of first aid. This will allow them to take on the role as an official first aider for the company. Both courses provide Qualsafe Award certificates, valid for three years. 
Due to the disruption caused by the Coronavirus, some certificates have had their validity extended by the HSE to help those that are struggling to re-train within the normal timeframe. You can find out more information about this on the HSE website: https://www.hse.gov.uk/coronavirus/first-aid-and-medicals/first-aid-certificate-coronavirus.htm
Mental Health First Aid
As well as physical wellbeing, it is vital that employers take the mental health of their workers seriously. To meet this need, the Mental Health First Aid course has been introduced.
Depression, anxiety, and other mood disorders can severely damage quality of life and ultimately lead to serious physical health problems. Suicide is one of the biggest killers in the UK. It's the largest cause of death for men under 40.
Poor mental health in the workplace can also be damaging for organisations as a whole, as it can lead to more days lost due to worker ill health, higher staff turnover and low morale across the board. Mental health has been particularly affected by the coronavirus, as the social restrictions put in place have led to an increase in loneliness and isolation for many people. It has never been more important to look out for other people's mental wellbeing.
Mental health first aid training provides learners with the knowledge and skills needed to identify colleagues suffering from mental health issues and respond in a helpful and appropriate manner. While it's not a legal obligation, having mental first aiders on site can provide much-needed support to workers, potentially preventing problems getting worse and causing further mental or physical pain.
To find out more about mental health first aid, check out our blog for the Time to Talk Day campaign.
Manual Handling
Over a third of workplace injuries are related to manual handling operations. This is often caused by moving everyday items such as boxes, computers, furniture, or other heavy objects.
Lifting and moving heavy objects can put heavy strain on muscles. If done incorrectly, this can cause serious debilitating musculoskeletal issues for the individual, severely reducing their quality of life and causing immense recurring pain.
To reduce the risk of serious injuries, it is a legal requirement for all workers to have some form of manual handling training. If employers fail to provide this to workers, who then sustain a workplace injury caused by manual handling, the employer can face heavy fines and legal consequences.
ESS provide a three-hour Manual Handling course aimed at all workers regardless of sector, seniority or work environment. This short course will give employers peace of mind that they've done their due diligence to protect workers from potential injuries from moving and lifting heavy objects.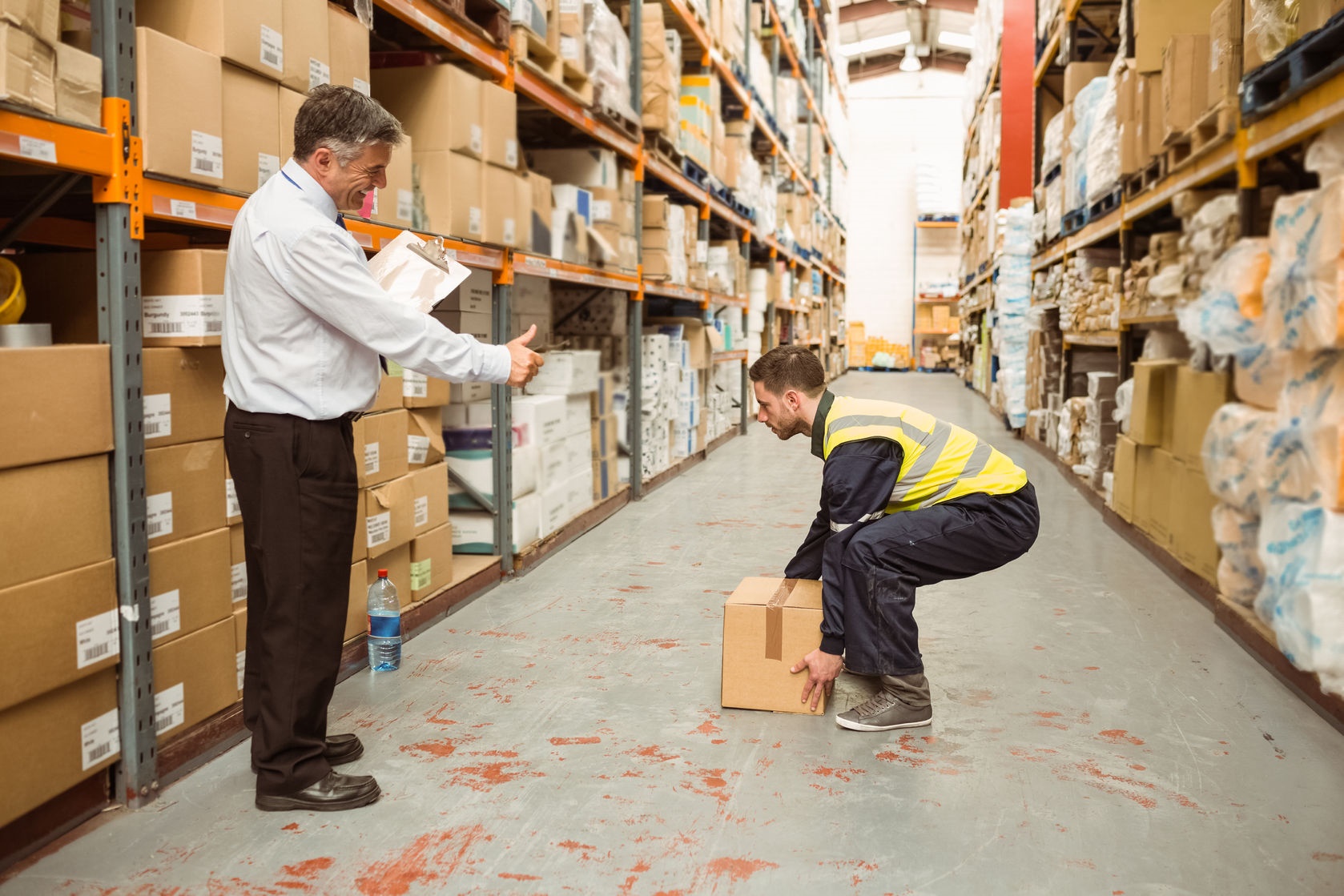 Fire Safety
For all employers and building owners, one of the biggest dangers they need to fully prepare for is fire. This includes making the necessary measures to prevent fire, and putting the appropriate level of staffing and procedures to respond to the outbreak of fire.
There are many different types of fire, which have different causes and need to be responded to in different ways. Because of this it is essential to have a designated trained fire marshal (also known as a fire warden) on site. It's their job to ensure there are evacuation procedures in place, fire risk assessments are carried out, and that staff know how they need to respond in the event of fire. Our Fire Marshal / Warden course is perfect training for anyone looking to take on this role.
To ensure the safety of all staff, conducting Fire Safety Awareness training with all workers provides peace of mind to employers and building owners. This half day course will provide much of the essential information relating to preventing fires and reacting in the event of fire occurring, including how to use a fire extinguisher. If learners just want to learn about handling extinguishers correctly, they can take our bespoke Fire Extinguisher Training course.
IOSH
The most efficient workplaces are ones which have established a culture of safety. This means that for the top to the bottom, from managers to entry-level workers, everybody is aware of their responsibilities in keeping themselves and each other safe.
To help create this culture, IOSH (Institution of Occupational Safety and Health) have created a range of training courses tailored to the specific needs of different seniority levels within the workplace. At ESS, we deliver the following IOSH courses for general workplace health and safety.


Coronavirus
In the current climate, it is essential that all workplaces are following the current Government guidelines to reduce the risk of spreading Covid-19. The latest guidelines can be found on the Government's website.
Further Information
To see a full list of the courses we provide, head over to our online course index. For any further enquiries, you can contact our team directly by calling 0115 8970 529. You can also drop us an email at info@essentialsiteskills.co.uk