CSCS Frequently Asked Questions

What does CSCS stand for?
CSCS stands for the Construction Skills Certification Scheme.
---
What is a CSCS card?
CSCS cards are used to provide proof that a worker has the appropriate training and qualifications to safely perform their job on a construction site. Although having a CSCS card is not a legal requirement, most employers in the construction sector will demand that all workers on their sites have one for their job role.
---
Is CSCS the same as CITB?
While the two bodies are heavily linked, CITB and CSCS are separate entities.
CITB stands for the Construction Industry Training Board. They oversee training for the construction sector across the UK. They work with the Government to promote and improve the industry by ensuring that training and legislation meets the needs of workers and organisations.
As part of this responsibility, CITB have created courses across a wide range of disciplines in the construction sector. These courses include their Site Safety Plus suite, which are key to ensuring safe work practises across construction sites.
Upon completion of their courses, delegates will receive a CITB certificate. Holding a CITB certificate is often essential for working in certain roles. Certain cards, like the CSCS green card, require you to have completed certain CITB courses in order to apply. CSCS green cards also require applicants to complete the CITB Health and Safety Awareness course to apply.
---
Who needs a CSCS card?
While not a legal requirement, most construction or building sites will demand that workers have a CSCS card relevant for the job they will be performing on site. For example, if you are working as a bricklayer, you may need a Blue Trowel Occupations CSCS Card. This card proves to employers their workers have the necessary training to perform their job safely, protecting themselves and co-workers.
CSCS cards also apply to workers at more advanced levels, such as managers. For example, construction site managers may need to have a CSCS Black Managers card by completing a Level 6 NVQ, such as the Level 6 in Construction Site Management. There are CSCS cards for a broad range of roles within the sector, from senior managers, to entry-level labourers.
---
What is the easiest way to get a CSCS card?
The easiest way to obtain a CSCS card is to apply for cards designed for entry level positions, such as the green labourer card. To apply for a green card, learners do not have to have completed a full NVQ. However, they will have to have completed one of the following:
RQF Level 1/SCQF Level 4 Award in Health and Safety in a Construction Environment
SCQF Level 5 REHIS Elementary Health and Safety Certificate
Of these courses, the most popular is the CITB Health and Safety Awareness. This course can be conducted online or face-to-face. Once completed, the qualification is valid for five years.
You can also apply for the red trainee or apprentice card. These are temporary CSCS cards which require you to have either enrolled on a relevant apprenticeship or NVQ, but do not require you to have completed your training.
---
What CSCS card do I need?

There are variety of different CSCS cards available for different levels of experience, seniority, and job role. The simplest way to look at the different options available is break them down into their different colours:
Green Card: Also known as the labourer card, this is the entry level card for people starting out in the construction industry.
Red Card: Red cards are temporary cards for workers who have some level experience but do not yet have the necessary qualifications to become a skilled worker. Red cards are broken down into five separate categories:
Apprentice - for workers who have started an apprenticeship for their role
Experienced Technical, Supervisor or Manager – for supervisors or managers with job experience but have not completed a relevant NVQ and are not part of an approved professional body
Experienced Worker – Workers with relevant job experience but without a Level 2 NVQ/ SVQ
Trainee – For trainees who are registered for a relevant qualification in order to gain a skilled CSCS card
Provisional – A temporary card issued to those who are working through a probationary period
Blue Card: Also known as the skilled worker card, this is given to workers who have completed their Level 2 NVQ/ SVQ or completed their relevant apprenticeship.
Gold Card: These cards are for those who have more advanced knowledge of their field of work and have completed a relevant Level 3 NVQ or SVQ. These cards are found two variants:
Advanced Craft - for workers who have a high level of skill in their occupation
Supervisor - for those working in a supervisory role overseeing personnel on construction sites
Black Card: Also known as the managers card, this card is for those who are looking to take a managerial position on constructions sites. Applicants needs to have completed a relevant managerial Level 5, 6 or 7 NVQ or SVQ.
White Card: Shows the highest level of expertise in their field. There are two types of white card:
Academically Qualified Person – For those who have completed construction-related degrees or equivalent
Professional Qualified Person - Competence assessed members of CSCS approved Professional Bodies
---
How much does a CSCS card cost?
Once all the necessary training and qualifications have been acquired, the standard fee for CSCS cards is £36. This does not include the CITB HS&E test, which will cost an additional £21.
---
Can I do my CSCS test online?
At the time of writing, you can only complete the Health, Safety and Environment tests at CITB-approved testing centres.
---
How can I get my CSCS card fast?
There is no real way to speed up the process of getting a CSCS card, as they require a certain level of training, experience, and qualifications to obtain. However, the more time you can dedicate to completing your required training, the quicker you will receive your card.
---
Can I get a blue CSCS card with a diploma?
To acquire any type of CSCS card, workers need to have completed a vocational element in their learning. Candidates need to have shown they can perform their job role through the workplace assessments found in NVQs.
Diplomas are only an accepted means of applying for a blue card if they include this NVQ element. Valid qualifications will often be titled or described as "diplomas to gain CSCS cards" and are different to the purely theorical diplomas you would complete at a training school or college.
---
Can I get a CSCS card without qualifications?
Workers with no qualifications can get temporary CSCS cards if they have enrolled on the right form of training for their job role. These include the trainee and the apprentice card. These prove that while workers may not currently have qualifications, they are working towards getting the appropriate level of training.
---
How much does it cost to book CSCS test?
CITB Health Safety & Environment tests cost £21. You can book you test by visiting the CITB website.
---
How much does it cost to renew CSCS card?
The cost of renewing your card is the same as the original cost of £36, on top of any additional training required. To renew your card, you visit the CSCS website or call them directly on 0344 994 4777.
---
How much is CSCS touch screen test?
The CSCS Health Safety and Environment test is sometimes referred to as a touch screen test. These tests costs £21 to book.
---
How do I get a replacement CSCS card?
If you have lost or had your card stolen, you can use the CSCS's online service to order yourself a new one. You can also contact the organisation on 0344 994 4777.
---
How much is a replacement CSCS card?
Replacement CSCS cards will cost you around £36. The quickest way of getting a replacement card is to use the online application service on the CSCS website.
---
Are CSCS green cards still valid?
CSCS green cards, also known as labourer cards, are a valid means of evidence to allow workers on construction sites. These cards allow workers on site to perform entry-level job roles with low levels of responsibility. These cards are valid for five years and can be renewed.
---
Can I get a CSCS card without an NVQ?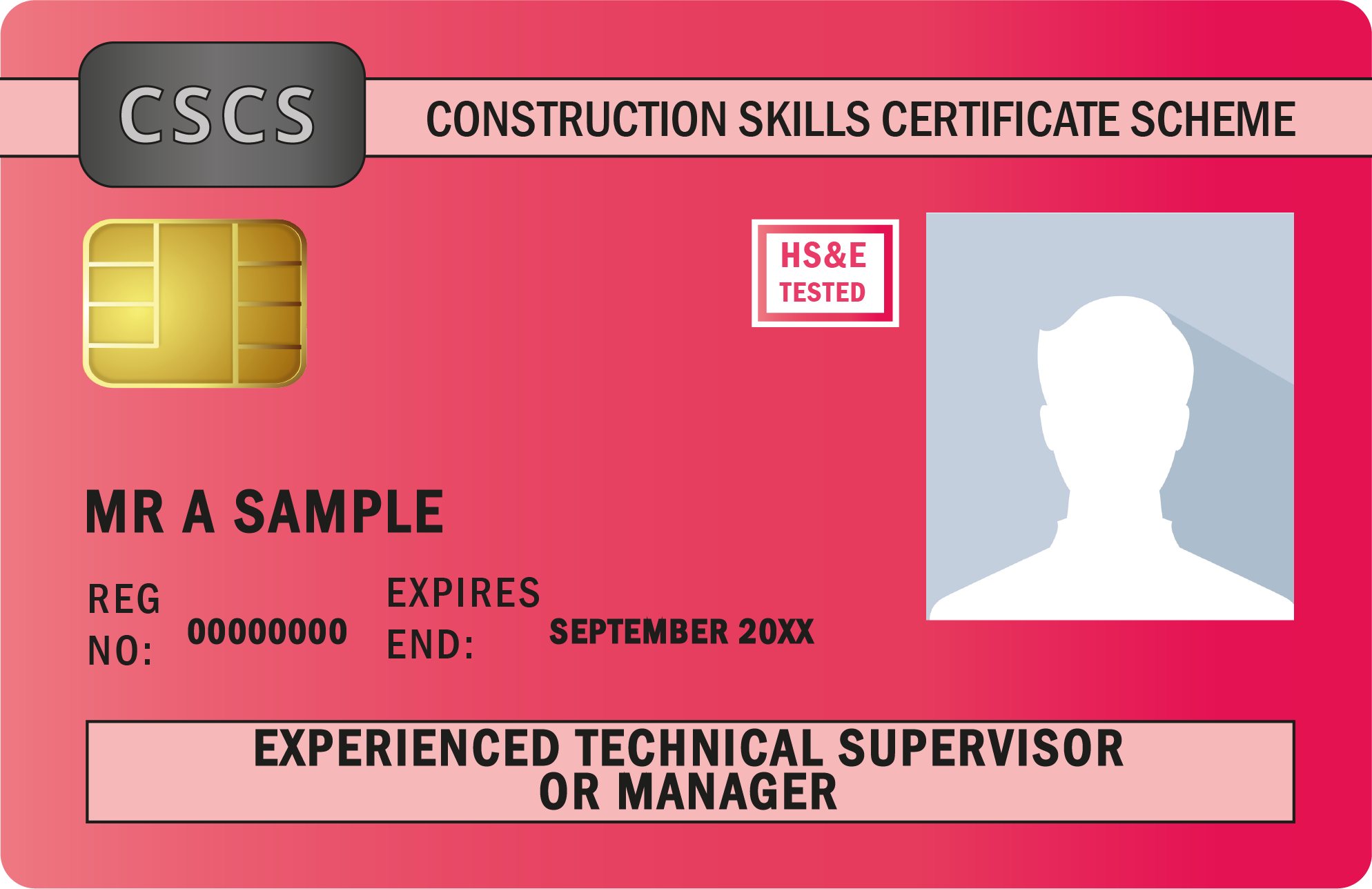 To acquire most CSCS card, workers must have completed an NVQ in a relevant discipline and a high enough level for the card they are applying for. However, there a couple of cards you can get without completing an NVQ.
Workers can receive temporary red CSCS cards if they have enrolled onto an NVQ but have not yet completed it. These cards are not renewable, meaning workers will have to have completed their NVQ to apply for a new card. The type of red card needed will depend on the employment status and the qualification the applicant is working towards:
| | |
| --- | --- |
| Card type | Who they're for |
| | Workers who have started a CSCS-recognised apprenticeship framework |
| | Workers who have on-the-job experience and are enrolled on a Level 2 NVQ or higher. |
| | Supervisors, managers, or technical workers who have on-the-job experienced and who are enrolled on a Level 3 NVQ or higher. |
| | Trainees that are registered to complete a construction related qualification acceptable for a CSCS card. |
| | Those working through a probationary period while employers assess their suitability for their job role. |
---
What is a gold card in construction?
Construction gold cards come in two varieties, advanced craft and supervisory.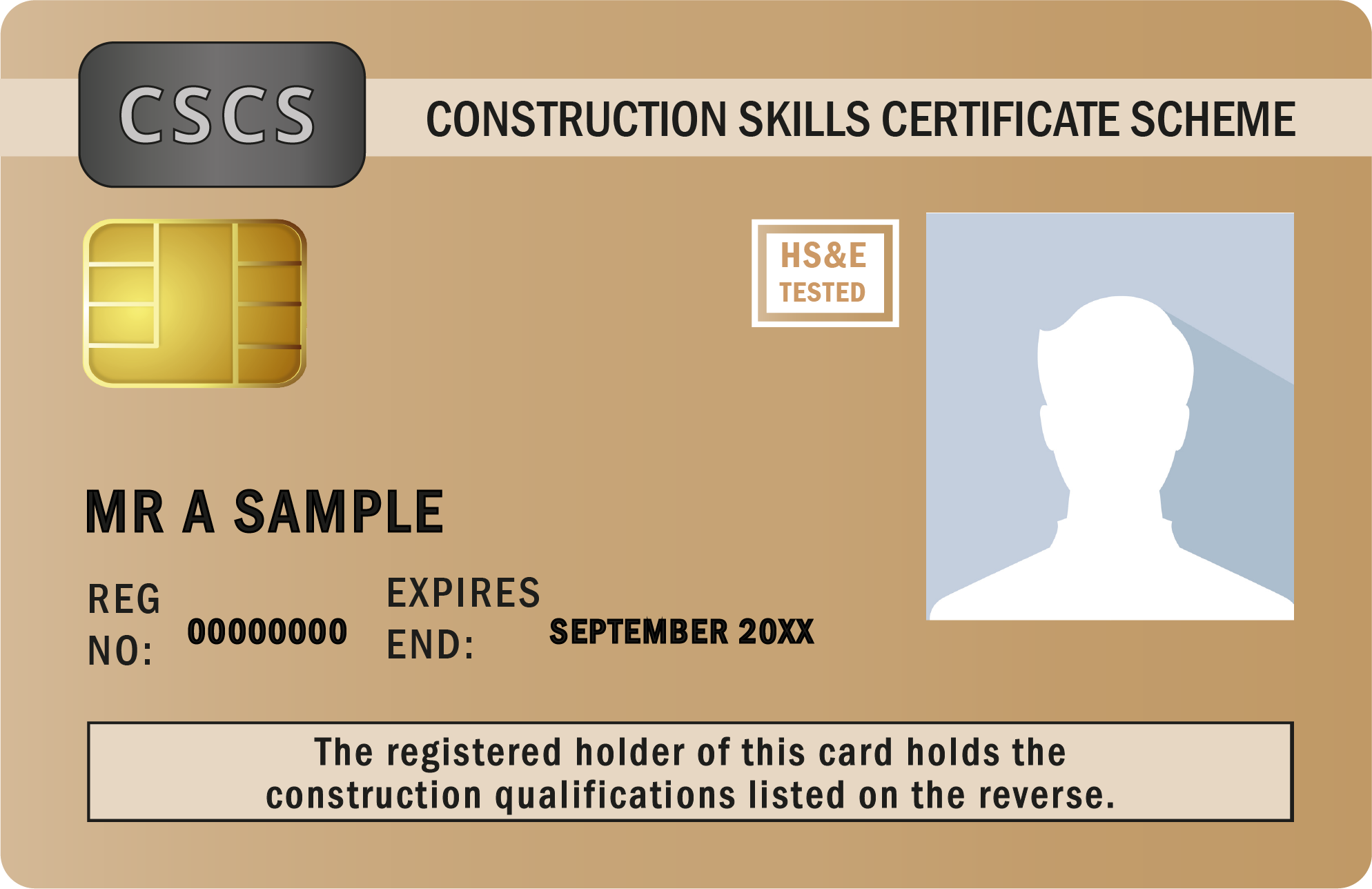 Advanced craft cards are aimed at workers who are highly skilled in their occupation. Obtaining this card proves to employers and managers the worker is a specialist in their field of work.
Supervisor cards are for workers who have responsibility for overseeing the work of personnel on construction sites. Their work will involve ensuring their staff are working correctly, efficiently, and safely. Supervisors normally report to managers who have ultimate responsibility for the construction site and workers.
---
How much is a CSCS gold card?
CSCS gold cards cost £36 on top of the cost of the workers Level 3 or 4 NVQ required to apply.
---
What qualifications do you need for a gold CSCS card?
To apply for either gold card, workers need to have completed a Level 3 NVQ or SVQ. Those applying for the Advanced Craft card can also apply if they have completed an approved indentured apprenticeship or hold a City and Guilds of London Institute Advanced Craft Certificate. Those applying for the supervisory can also apply with a Level 4 NVQ.
---
What qualifications do you need for a black CSCS card?
To obtain a black manager's card, workers must have completed a relevant Construction Management/Technical related Level 6 or 7 NVQ.
---
Can I get a black CSCS card with SMSTS?
While the CITB Site Supervision Safety Training Scheme (SMSTS) presents fantastic grounding in the principles of construction management, you will not receive a black card for completing this training. SMSTS is not required to apply for the CSCS black card. Candidates must have completed a Level 6 or 7 NVQ.
---
What to do if CSCS card has expired?
If your card has expired, it is no longer valid, meaning you might not be allowed on site to do your job. It is essential for you to renew your card in plenty of time to ensure this doesn't happen. You can renew you card online from up to six months before expiry.
---
How long does a CSCS card last?
The validity of CSCS cards will vary depending on the type of card. However, all renewable cards (green, blue, gold, black, white) are valid for five years.
Red cards differ in validity depending on the specific card you hold:
| | |
| --- | --- |
| Card type | Validity |
| | 4 years and 6 months |
| | 1 year |
| | 3 years |
| | 5 years |
| | 6 months |
All red cards are non-renewable, meaning once the validity has expired, you won't be able to apply for a new one.