Labourer Card | CSCS Green Card
Posted on Saturday, 28th November 2020

This week we are taking a look at the green CSCS Labourer Card and covering any queries you may have regarding the cards themselves, how to get one, and what qualifications you may need.
The Construction Skills Certification Scheme (CSCS) helps construction sites, employees and employers improve the standard of safety by providing proof that workers on site are appropriately qualified. While there are multiple CSCS Card types available for different sectors, jobs and experience, today we will focus on the green CSCS Labourer Card. *Please note: The Labourer Card replaced the Construction Site Operative Card as of 1st July 2014.


Who needs a Labourer/CSCS green card?
Unlike the Red CSCS Cards mentioned in our previous blog, there is only one green CSCS Labourer Card. The Labourer Card is designed for a construction labourer who has been employed to carry out various manual labour jobs on construction sites. It allows workers to perform tasks on sites at entry-level positions and is valid for 5 years. If you are working in any type of labouring environment, employed in the physical construction and/or destruction of a building setting and infrastructure, you can apply for the green CSCS Card.


What does a Labourer card do?
The Labourer card ensures that the card holder possesses the minimum required qualifications to work on the construction site and is competent with basic health and safety. While CSCS Cards are not legally required on all construction sites, the vast majority of employers do require them in order to allow workers on site. Have a look at the list of different CSCS Card Types to make sure the Labourer Card is for you.



What are the green CSCS card requirements?
In order to apply for your green CSCS Labourer Card you must be 16+ years old and have certain qualifications.
You must have passed the CITB Health, Safety and Environment test within the past two years.
Complete the QCF Level 1/SCQF Level 4 Award in Health and Safety in Construction Environment or SCQF Level 5 REHIS Elementary Health and Safety Certificate. (These are lifetime qualifications that only need taking once and are accepted when your Labourer Card is up for renewal in 5 years).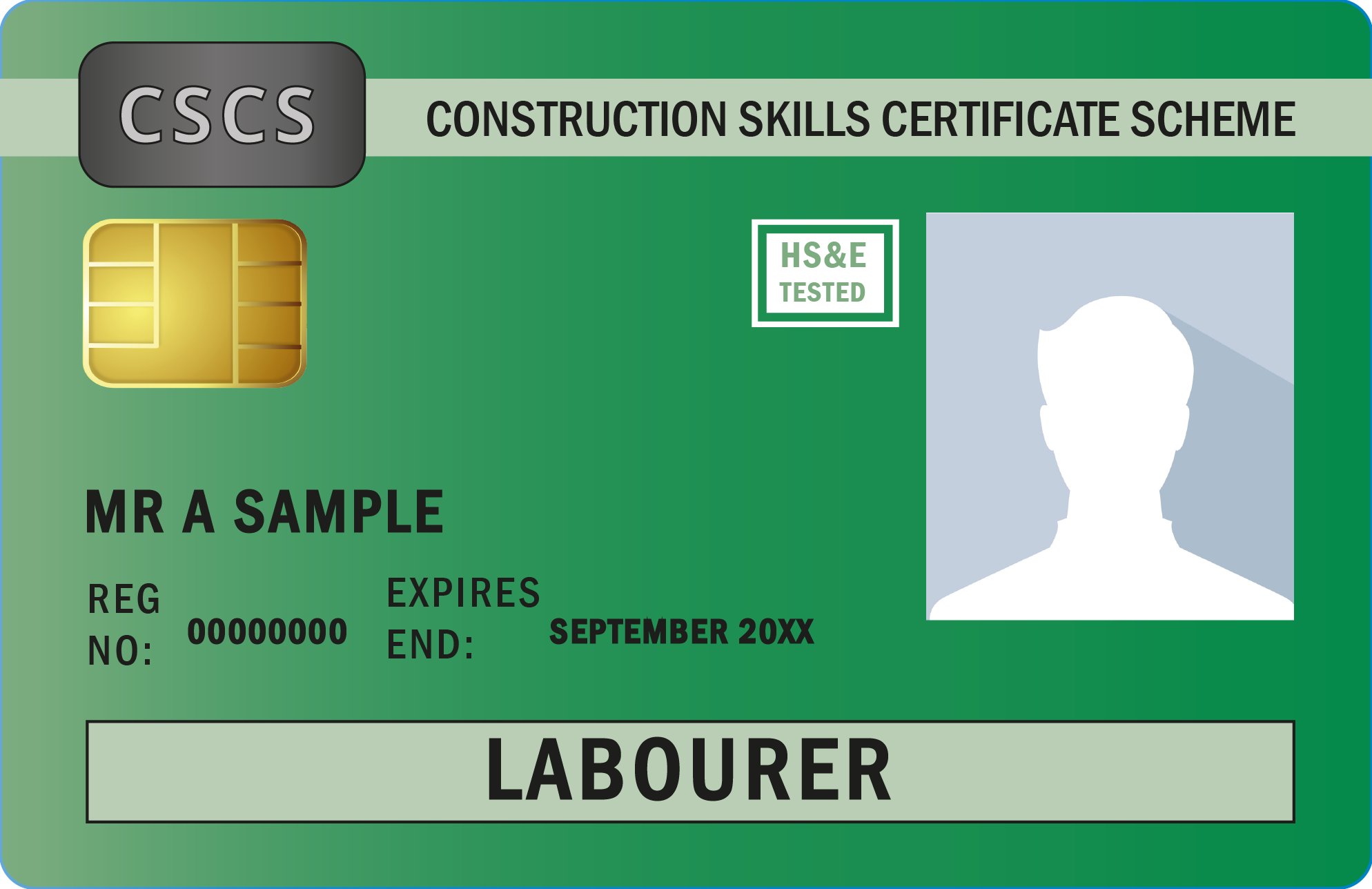 There are alternative qualifications that CSCS accept when applying that are often a quicker and more popular route to gaining your green card, although you will need to attend a refresher course every 3 or 5 years; we can offer any of the following as a suitable alternative:
How much is a green CSCS card / How do I get a green CSCS Card?
In order to apply for a CSCS green Card, you must have passed the Operative CITB Health, Safety and Environment (HS&E) test. When booked directly with the CITB, the HS&E test costs £21 and you can find all the information on how to book here. The CSCS Card itself costs £36 in addition to the HS&E test and can be paid for over the phone.

To apply for most CSCS cards, applicants must:
Email a copy of their qualification certificate or registration to cscs@citb.co.uk.
Call 0344 994 4777 and pay £36 using a credit or debit card.
Once approved, your CSCS card will be posted the next working day.
Most cards arrive within 20 days. If you have not received your card within 5 weeks, please contact CSCS. After 90 days an application is considered closed you will need to re-apply and pay an additional £36 for a new card. Please note: Individuals applying for a CSCS card on behalf of a friend or family member must ensure that the applicant is present when calling us so they can provide the necessary consent over the phone. If you are an employer wanting to apply for 2 or more cards on behalf of your workers, you can apply online using the Employer Application Form. (If you are applying for a single card for a worker, the employee does not need to be present at the time of application).
For more information on how to apply for a CSCS Labourer card, watch this handy CSCS Video Guide.
How do I renew or replace my CSCS card?
Every CSCS Card has a limited lifespan and will expire, but the majority can be renewed over the phone. Cards can be renewed from 6 months before, to 6 months after the expiry date shown on the card. (Any card which has expired past the 6-month cut off must be applied for as a brand-new card as per the CSCS rules at the time of application). You must have passed the HS&E test within the last two years.
If you need to replace a lost, stolen or broken card, you can call CSCS directly. Please ensure that you have your CSCS registration number or your National Insurance number with you.
CITB Site Safety Plus courses
As the 1 Day CITB Health & Safety Course is probably the most popular course we offer for those wanting a green CSCS Labourers card, it's worth mentioning the scheme offers an excellent framework for career development, with training courses for all levels of the workforce. The scheme follows a natural progression for those that are new to the industry (Health & Safety Awareness), progressing through to those about to have supervisory responsibilities (SSSTS), and then advanced levels for those with management responsibilities (SMSTS).
Here at Essential Site Skills, we offer a multitude of CITB Site Safety Plus Courses to help aid career progression.
New for 2020
To help workers and employers deal with the disruption caused by Covid-19, ESS now provide additional means for workers to get the training they need to apply for their green card.
One of these new ways of training is the CITB Health and Safety Awareness eCourse (eHSA). This online course provides all the essential knowledge covered in the traditional HSA course, but can be completed entirely online at the learner's convenience (learners have 12 months to complete the full course). If you would prefer to conduct this course with the teaching of one of our expert trainers, we also provide the traditional HSA course via remote video conferencing. 
Another recently added pathway to the green card is the Level 1 Health & Safety in a Construction Environment e-learning course. This CSCS-approved videotile learning course provides much of the essential health and safety knowledge required to work safely on construction sites. Much like eHSA, our e-learning courses can be completed entirely online, at a time and pace convenient for the learner.
What progression opportunities are available after a green CSCS card?
Now that you have your green CSCS card and are gaining valuable site experience, what can you do next?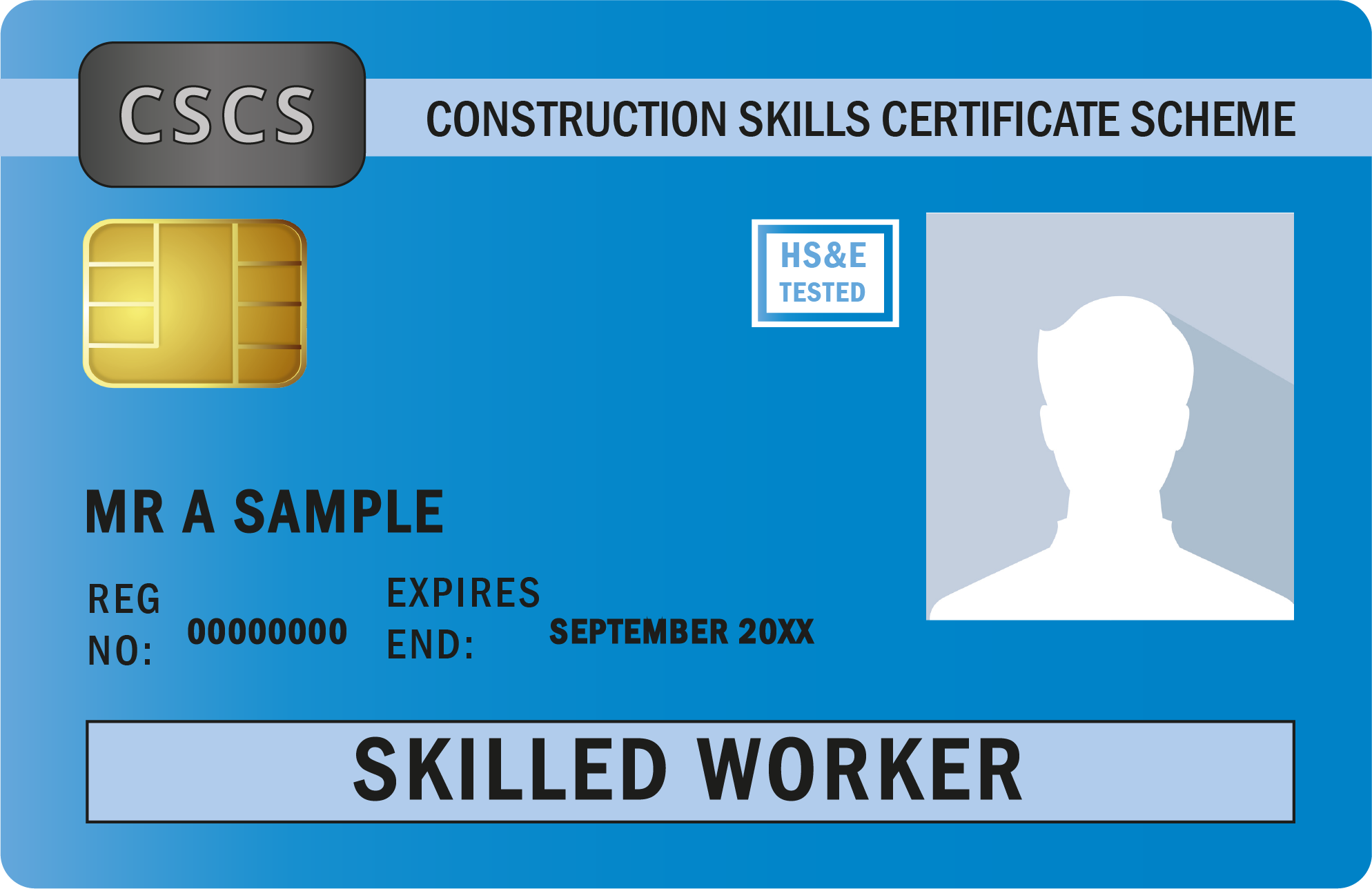 There are so many opportunities and paths to take within the construction industry. A lot of people choose to continue their education with a plant training course such as CPCS or NPORS, followed by an NVQ qualification to prove competence as a fully skilled plant operator. Alternatively, they may prefer to gain new skills and train as a craftsperson in a particular trade such as Civil Engineering, Roofing, Plastering, Roadbuilding, the list goes on. Whatever their chosen career path, gaining new skills and qualifications can increase career progression indefinitely once passed.
Once you have completed your training and NVQ qualifications you can look to apply for a Blue CSCS Skilled Worker Card for craft operatives, or Blue CPCS Competent Operator card for plant operators.
You may wish to continue and progress onto a supervisory or management role, gaining better job security and higher salary opportunities. We offer qualifications right from Level 1 up to Level 7 Construction Senior Management, so whatever your level or requirements we can help with career development.
At Essential Site Skills, we offer an assortment of NVQ routes and training courses to help progress your career, take a look through our NVQ Index, or search via the homepage.
Any other queries about the Labourer card?
If you are still unsure if the green CSCS Labourer Card is for you or if you have any questions, contact us for advice and career guidance. Essential Site Skills provide a wide range of NVQs and training courses which will support your application for a CSCS Card. Feel free to give us a call on 0115 8970 529 or email one of our helpful training advisors at training@essentialsiteskills.com.