Safety Harness Training is Critical for anyone Working at Height
Posted on Friday, 6th September 2019 by Louise

According to recently released HSE statistics, Working at Height is still one of the biggest causes of death and major injury within the workplace. In this week's blog, we will be looking at the importance of Safety Harness Training, to avoid potential life changing injuries, if not death to yourself or an employee.
Should I be wearing a Safety Harness and Lanyard?
Personal fall protective equipment (I.e Harness, Fall arrest locks, restraint lanyards) is an absolutely vital part of personal protection for anyone that is working at height. It is so important that the user knows how to inspect, and also use it properly. Working at Height is deemed any place that if the required precautions were not taken, the distance you could fall may cause personal injury. 
You are classed as working at height for any of the following:
Working above the ground or floor level
If you could fall from an edge, or through a fragile surface or opening
If you could fall from the ground level into an opening/hole within the flooring or ground
So, if this is part of your normal daily work routine, then the answer is YES!

Importance of choosing the correct harness
When selecting a safety harness, it's important that you choose the correct type of harness depending on the work that's involved. With so many safety harnesses to choose from it's important to select the right equipment for the job.
Each harness is engineered with a series of unique components such as:
Webbing/ Textile
Side, Rear and Front D-Rings
Lanyard Connections
Adjustable Waist and Leg Straps
This provides a safety solution to closely match the working environment, as wearing the wrong type of harness can lead to serious injury or much worse.

Is harness inspection important?
We cannot stress enough that using the right equipment when working at height could save your life one day, so it's vitally important that users are trained to inspection components such as a harness correctly. As with all Personal fall protective equipment (PFPE), your harness will need to be formally inspected by a trained competent person as required by varying HSE guidance such as indg367, typically every 6 months or before depending on the nature of work and environment, or as specified within the employers inspection regime.
Pre-use checks need to be carried out before each use and include the following physical inspections:
Check the label – make sure that the label has an individual serial number, with valid inspection and manufacturing dates.
Anchor (Sternal/Dorsal etc..) - Check the condition of the D Ring for any signs of distortion, fatigue/rust, cracking, burrs, nicks, excessive wear. Make sure the ring pivots freely.
Webbing – Check for signs of UV damage and chemical damage (staining is an indication of chemical damage which can be identified if the harness appears brittle or hardened). Webbing must be free from cracks, cuts, fraying or excessive abrasion, even loose stitching or fading may mean the fibre structure has been compromised.
Buckles – Connect buckles ensuring the harness isn't distorted and hangs correctly, making sure all rivets are tight and the buckles aren't chipped or bent, with stitching intact.
Loops – Check for damaged, cracked or broken loops.
Straps – Inspect the clips on the straps and check for any loose stitching. Carefully check the straps for any visible signs of fraying or broken fibres.
How to wear a harness properly
You must ensure that you are wearing the harness properly, otherwise it will offer limited or even no protection. Harnesses are used as part of a safety system, a good way to remember this is ABC, A - Anchor, B – Bodywear (or Harness) and C – Connecting device. All of these components must be equally inspected and carefully selected based upon the job/task you're doing.
It is essential for yourself or your employees to know how to put one on correctly: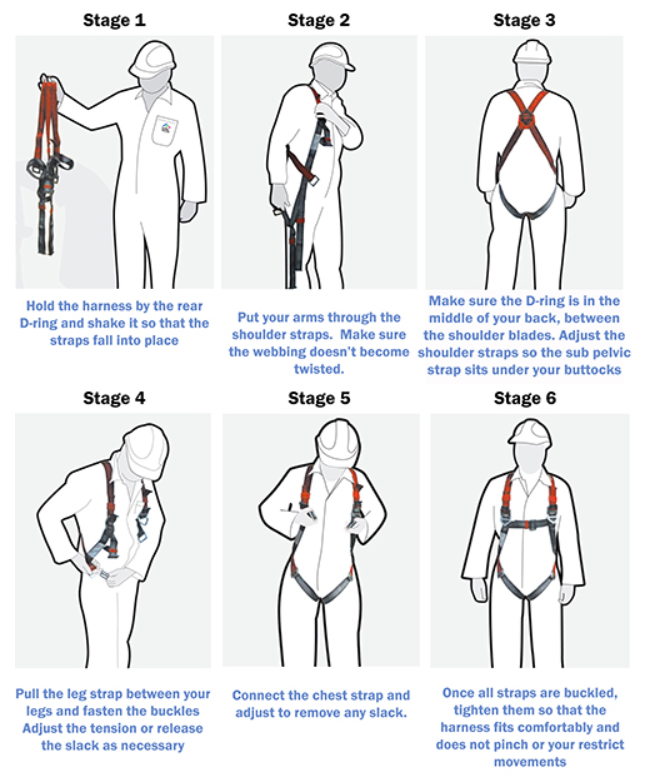 Safety Harness Training with Essential Site Skills
Our highly qualified trainers at ESS are specialists in working at height, including harness selection, inspection and usage, so they can provide life saving training and practical sessions. Our specialist internal training team provide nationwide coverage, so we can easily deliver on-site safety harness training near you.
For Basic Safety Harness Training please visit our website for more information about the course and how this can impact positively on your safety. We offer a wide range of working at heights courses from Working at Height Awareness, right through to Tower Crane Rescue.  You can view a full selection of our working at height courses here.
Better to be Safe than Sorry!
If you are interested in booking a course for yourself or an employee, please give us a call on 0155 8970 529 and speak to one of our advisors about the best options for you. You can also contact us on our website to make an enquiry or email our helpful training advisors at training@essentialsiteskills.com.