National Plant Operators Registration Scheme (NPORS)
NPORS has been supporting the industry since it was established in 1992, and is now one of the UK's leading Accreditation and Registration Bodies. The scheme offers employers a one stop shop for their training needs across a wide variety of sectors, maintaining high standards, both nationally and internationally by working with the Industry and Accredited Training Providers.
As an Accredited Training Provider (ATP), we provide NPORS assessments at our plant centre in Chesterfield, as well as offering nationwide on site assessments. Please search for your required course via our homepage, or browse through our course index page.
How do I book my course?
You can view our NPORS courses below, or please contact us for further information and to book. Our training team will ensure you are guided throughout the whole process from booking to completion.
View NPORS Courses

NPORS CSCS Plant Operator Card
As a partner card scheme of CSCS, the NPORS CSCS Construction Operators Card, will now be issued in line with the requirements stipulated by the Construction Leadership Council (CLC) and will display the CSCS logo.
The NPORS CSCS Cards that available are the Trained Operator Card (Red), and the Competent Operator Card (blue). The Blue Competent Operator card is only available to those operators who have achieved the relevant NVQ qualification.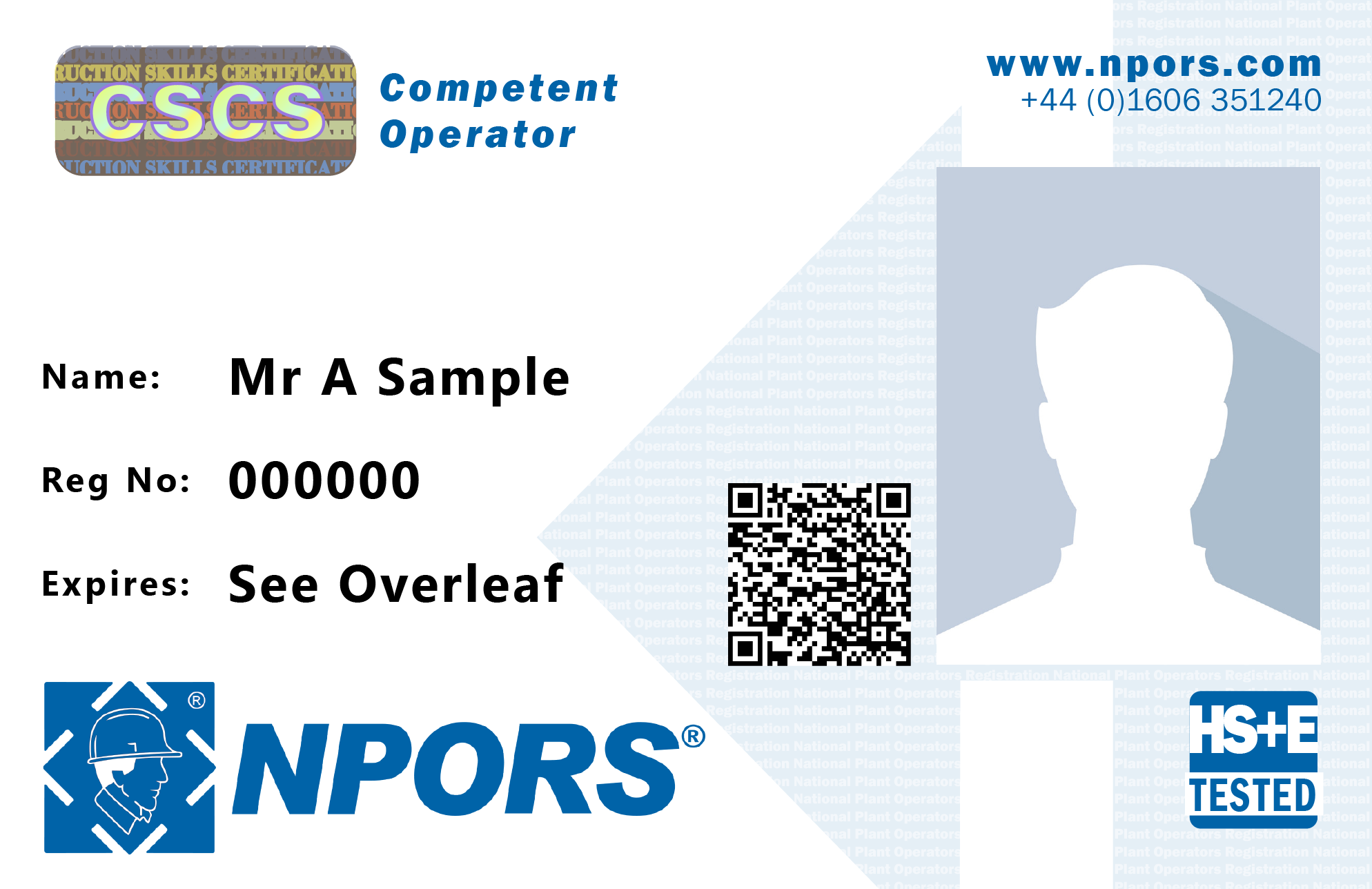 For new entrants to the scheme that have no formal qualifications, a Red Trained Operator Card will be issued which remains valid for two years, during which time the plant operator must achieve the relevant NVQ qualification for the categories held on their Trained Operator Card.
Traditional NPORS Card
If the CSCS logo is not required on your NPORS card, the option to apply for the Traditional NPORS card is still available.
Once the training and assessment has successfully been completed the operator will receive a 5 year traditional NPORS card, which is renewable. This card can be endorsed with the Health, Safety & Environment (HS&E) test logo, if the operator has passed the relevant HS&E test within the last two years. If they don't have a valid HS&E test, then the card will be awarded without the HS&E logo.
The Difference Between NPORS and CPCS
It's often asked 'what is the difference between NPORS and CPCS?'
There isn't a lot of difference between the two schemes, as the result and learning outcomes are very similar, including the ways to achieve their trained operator and competence cards. Both schemes have their pros and cons, so choosing will be mainly based on your learning style, your budget and the requirements of the sites or companies that you work for.
Read more about the two schemes in our blog, so you can decide which scheme is best for you, or contact one of our expert training advisors for help and guidance.
Need Help Applying For Your NPORS Card?