Why Should You Train With ESS?
Posted on Friday, 30th October 2020 by Tim

Every business needs to keep their staff trained in health and safety, especially if they require more provision due to the high-risk nature of their work. Finding the right training provider is crucial to the success of your business, particularly when there are so many training options available. There is no substitute to quality training.
So, what makes Essential Site Skills stand out above the competition? In this blog, we explore our top of the range training, and take a tour of the training options we can provide employers and employees alike.
Who are ESS?
Since 2013, ESS have delivered high-quality training across a range of roles and sectors, with a specific focus on health and safety training in the construction industry. Our award-winning training has been accredited by some of the leading names in workplace health and safety, including IOSH, CITB, and CPCS. You can see a full list of our accreditations on our dedicated webpage.


Do ESS just do construction courses?
No. While ESS specialise in delivering training for the construction and allied industries, we provide a wide range of courses which are integral across many sectors and workplaces.
There are certain aspects of health and safety training almost all employers need to ensure their workers have been trained in to fulfil their legal duties. Some of these courses include:
Given the changes to workplaces over the past year due the Covid-19 pandemic, an increasing number of workers require training in face fit equipment and the use of PPE and RPE. Due to our years of experience of delivering respiratory protection training to the construction industry, we are perfectly placed to help any workplace get the RPE training they need.
Over the past nine months, our team have provided the fit2fit-accredited Face Fit Train the Tester course to a range of new clients including those in the dental, hospitality and healthcare sectors. Find out more about how Face Fit testing can be vital in reducing the spread of the coronavirus in our dedicated blog entry.
Our trainers were also honoured to be able to help assist the setup of the NHS Nightingale hospital in London, ensuring all healthcare staff had the appropriate level of testing for their masks. This shows how vital our training is to protect the lives of workers and the public.
Our expert training team
As a training provider, we are only as good as our trainers. This is why we have dedicated substantial time and resources into developing our trainers so they can deliver the training of the highest quality possible.
All of our trainers have personal professional accreditations from IOSH, ranging from CMIOSH to TechIOSH, as well as the necessary qualifications required for the specific training courses they deliver. They are also supported to constantly improve their skills and knowledge, as each trainer has over 25 hours of CPD (Continuing Professional Development) every year. This provides learners and employers the piece of mind knowing they are receiving the best training possible.
Some of our trainers have been recognised by the industry for their dedication to quality learning. At the 2019 Learning Awards, ESS trainer Michael Harcourt won the Rising Star Silver Award. Another one of our trainers, Matt Fletcher, was a finalist for the same award the following year. 
Meet Our Training Team
Our training team are not just highly qualified, they work incredibly hard to ensure their training is as engaging, interactive and interesting as possible. Take a look at our video to see our internal training team in action:


Our Awards
As well as awards for individual trainers, we have also received numerous industry accolades for our company's work as a whole. In 2019, ESS were finalists in the Learning Provider of the Year category at the Learning Awards. We have also previously been winners at the UKATA Excellence Awards for our services in promoting asbestos awareness.
This year we are delighted to have been nominated as a finalist for the Positive Impact Award at the SME National Business Awards 2020, with the final taking place this December. In addition, our managing director, Catherine Storer has been nominated for Business Woman of the Year at the National Business Women's Awards, and our Training & Consultancy Director Darren O'Neill is a finalist for Learning Leader of the Year at the Learning Awards 2021. These awards show how we are consistently improving and delivering quality across all aspects of our business operations.
To see a full list of our awards, check out the awards page of our website.
Remote Learning
It has never been more important to be flexible and offer workers different training options to suit their needs and requirements. As a response to the coronavirus pandemic, we have made an increasing number of our courses available through video conference training.
Utilising the popular and easy-to-use video conferencing software Zoom, these courses are interactive learning sessions with our expert trainers. They provide the same quality training as the face-to-face versions, but allow you to complete them from home in order to get your training during the current disruption.
Currently our suite of video conference training courses includes:
In addition to these, we also offer an extensive range of e-learning courses across a wide array of skills and job roles. These can be completed entirely online, in your own time and at your own pace. This is perfect for anyone working from home or seeking new employment.
Other training
This is just the tip of the iceberg when it comes to the variety of training options we provide. We have a dedicated team of external tutors and internal assessors to deliver and process a series of alternative qualifications. These include:
NVQs
For many secto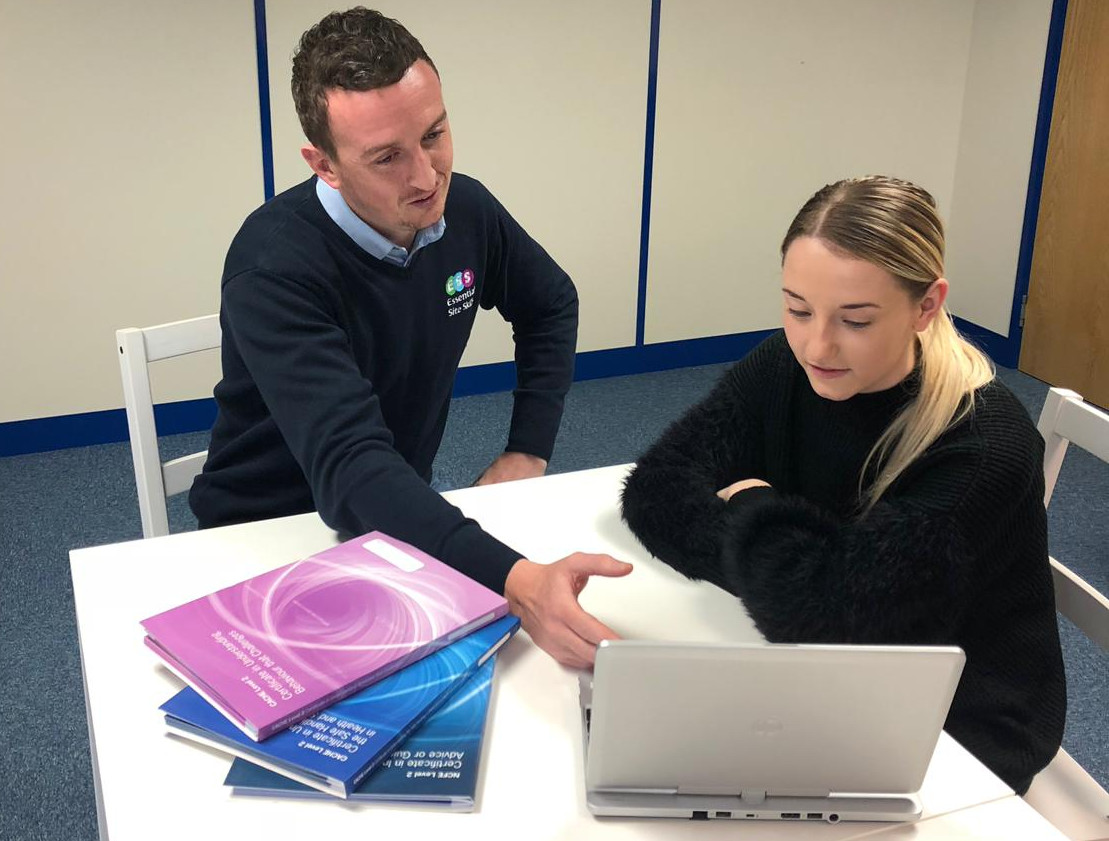 rs, NVQs are a vital means for workers to acquire the necessary skills and knowledge to perform their job effectively. At ESS, we provide a whole host of NVQs, including an extensive range of Level 2 Construction NVQs. These qualifications are vital for certain workers to obtain the necessary cards to get on site, such as CSCS and CCDO cards.
Apprenticeships
Essential Site Skills deliver a range of quality apprenticeship programmes. We feature on the UK Government's Register of Apprenticeship Training Providers (RoATP) and have received ESFA approval.
NCFE CACHE Qualifications
NCFE CACHE Qualifications are an excellent way for employers to build on the knowledge and skills of their workforce without having undertake a full diploma or apprenticeship. Depending on the situation of your workers and the location of your business, we may be able to find you funding to complete these courses. Visit our funding page for more information.
Where do ESS deliver?
We deliver on-site training nationwide across the UK. * To enquire about on-site training for any of our courses, you can call the team on 0115 8970 529. You can also email us at info@essentialsiteskills.com.
If you want to enrol onto one of our public courses, we have venues across the country from London to Newcastle. Find a full list on our venue page.
*please be aware that we may not to be able to travel to certain locations depending on the coronavirus guidelines and restrictions in place at the time